Since childhood, I have always been taught that adults need help. I remember my desire to help my mother or grandmother in the kitchen. Now my daughter also tries in every way to imitate me if I cook or clean something. Let her not always succeed, but this is already a plus.
Children who grow up in villages and villages, in my opinion, become more independent in the future. Often, older brothers and sisters become second mothers for their younger relatives.
Work for a child in everyday life
To teach children to work is necessary from an early age. Of course, I do not think that it is necessary to force a two-year-old child to wash the floors. It is necessary to show by example that before you get something, you need to work hard.
In the future adult life, a daughter or son will thank you for teaching us how to prepare basic food and clean the room.
When I cook something, my daughter often stands on a stool and watches the process. We make tea together, make cookies and other light meals.
The process of cleaning is also interesting to her. Masha takes a broom and a scoop and starts sweeping the floor or vacuuming, although the technique is large and heavy for her, but she wants to help me, which is pleasantly pleasing.
If the baby has spilled something, let him wipe the floor or the table himself. He must understand that constantly mom will not do everything for him. Teach your child to clean up toys and books, and take your dirty things to the laundry. Also, it concerns candy wrappers from chocolate and sweets.
After washing my daughter tries to help me put things together. She puts socks and underwear in the chest of drawers.
If we go to the store or to the market, I give my daughter a light package. It is not necessary to make, especially if I bought something interesting or tasty.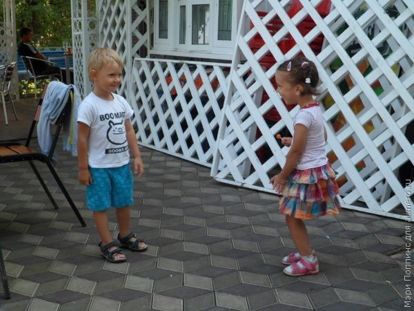 Teaching a child elementary skills, you also show respect for elders, and especially for parents.
When the ex-husband took his daughter to the village for the weekend, on arrival the whole family told how Masha went after all the beds, threw potatoes in the pits and watered.
At the playground, ask the child to fold their toys behind. Purchase a small backpack or handbag and let the child carry it all by himself (the exception is heavy and bulky toys).
It's great when a child has a zeal for any work that does not have to force. I was taught this in my childhood and did not remind me that I had to fold things, peel potatoes or put them in the room.
Labor instills in the child the skills of independence and respect for elders. Therefore, you should not do everything for the child, give him the opportunity to help you.