I have a friend who is now at sea with her son, just like me. They also did not come to the hotel, but live in an apartment, that is, it differs from home conditions only in the presence of the sea and the absence of relatives. I will purposely change the names in this story. Let her name be Anya (woman is over 30), and her son (2 years 8 months) – Vitya.
Even when we met, she immediately told me that her son was still a very little baby and a dork. I did not understand what she meant. I remember my age. And although I admit that all children are different, it's still difficult for me to name a child at this age as a dork, etc.
Knowledge and skills


Victor does not speak. Mom, woman, aunt, d (yes), not (no). All other words – stubs. Coco instead of milk, mock instead of a plane, such as a tractor, etc. No, I admit that not everyone speaks at this age, that I had such a talker born purely by chance – at one and a half years he began to speak in sentences. On the commission before the kindergarten was just a dream of a speech therapist.
He does not go to the pot either. We learned in two and a half. Also, of course, not too early, yes, I even think that it is late, because almost the whole environment has learned much earlier. But Vitina 2 and 8 already smoothly flow into 2 and 9, and there in 3 years. In diapers, he only sleeps, but when he is awake, he does not always ask to write.
Do not eat myself. And in general, eaten porridge and mashed cans for half year old babies still eat.
Behavior


When Vite needs something, he starts hysteria! My son looks with big round eyes at this performance. No, I am not an angel, he is also naughty, but to scream and stomp his legs like that.
Accordingly, if mine has a toy (perhaps not even a new one), then it must be taken away right away, and if it is not allowed to arrange a scandal and demand it in every possible way. This applies to all spheres of life – everything should be given to him.
Mother's behavior


Actually, this is what I precipitated from. Experts say that children under 6 need not be in the circle of their peers until the age of six, "Anya told me. What nonsense! – I could not resist. Then she tried delicately to say that the socialization of the child takes place just from 2-3 years old, therefore it is recommended to give the garden at this age.
At this stage, I learn that from September they are going to the garden! Before that, they went to the development sites (oh, so this is an early development for me!), Where, according to Ani, the child could easily walk, watch, draw, sculpt or play in the sand if he likes. Sorry, but without razvodilok this nowhere to do? Draw, sculpt, play in the sandbox.
When they come to the beach – this is a separate song. First, they come almost when we leave soon, for we try to be there until 12, and they are from 11 to 14 somewhere. To each his own, but! Coming to the beach, the child immediately asks to the water. Logical, yes? The sun at 11 already bakes be healthy. Mom – not a lover of swimming, she begins to chastise him, that no, I do not want, wait in the sun, play in the sand.
I'm not so hot, we always swim with the child first, and then we play in the sand, because it's not so hot.
She prefers to sunbathe. It is assumed that the child should also behave this way. If he pulls her into the water, then I hear words like stupid from her address to Vitya, etc. Because he does not understand that she wants to sunbathe, and pulls her into the sea.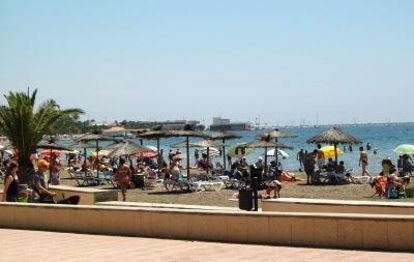 When our children play together and a controversial situation arises, which cannot be resolved without a scandal, I intervene. Anya says that she never intervenes, like, they have to figure it out themselves. In this case, her child does not know how to understand himself. She can tell him 1-2 times give him or change, but if he does not obey, then she begins to cry out you already got me!
She tells me that Vite is useless to say something, he still does not understand, he is still small, stupid, etc. But there is an uncle a policeman who will take Vitya if he behaves badly.
My reaction


I understand perfectly well that this is her son, she is a mother, she knows better, etc. etc. But when it comes to my baby, I will not sit silently. I will interfere, explain and separate, until they learn to do it themselves without scandal.
The main idea, for which the topic was written: when I explain something to Vita, he understands me! It is said not to go into the room, from 4-5 times the child does not enter, but looks in (the door is open) interrogatively: aunt? If I said that I need to change toys, then before I rush to mine, he carries something of his own on the exchange. Yes, you need to say 5 times, but the result is more important.
And so on. You can continue for a long time. From here I conclude that this is not Vitya Duril, but Anya is comfortable, that he is small. And as I understand it, until the age of six he will be a baby-baby. And he does not need to explain – he is small!
What will grow out of a child who wasn't explained the basics of behavior in time? For the upbringing of which they scored so slightly on the pretext that he is small and that his grandparents indulge him all the time?
I honestly try to keep quiet and not to climb, although it is hard for me, I will not hide it. Even there are thoughts that she would trust me with Vitya for a couple of weeks, he would have started talking, and would have stopped hysterics to roll up, and learned to eat himself.
Yes, yes, she runs after him with a spoon to eat, baby, dietary egg. And at the same time, he buys all kinds of chemicals in the form of chips, chupa chups, etc. so that the child at least something to eat. For me it is unthinkable.