Pampering is not always bad. After all, there are several concepts related to this term. A child can be spoiled or dabbled.
What is the difference? As we all know, the child who twists the ropes from his close ones is spoiled. A minion is a child who does not feel a lack of attention and parental love. After all, you can spoil with gifts or money, but it seems impossible to spoil with attention.
Spoiled children are often capricious, they do not know how to listen and hear their parents, they do not know how to find a common language with their peers. But darlings, do not behave like this.
Who is to blame for spoiled?


It seems to me that most often the child is spoiled by grandmothers, somehow too much. My own sister lives in Kiev and often my niece stays with us in the city (with my parents) all summer. So here it is the center of attention. Absolutely everyone is sure that the world is spinning around her. And I want to note that she does not allow herself with such a mother.
As soon as she tears off her knee, my parents rush and begin to groan and gasp, and as soon as Sonya talks about a new doll or dress, everyone will run to the store to fulfill this desire. Therefore, the child is fully confident that he will get anything.
When the dormouse returns home, it also tries to behave with its parents. But my sister has a burden and does not pay attention to such moods. So two weeks of re-education and the child is normal. But the more often such trips happen, the more difficult it is for that sister.
Parents who are very busy at work can also spoil the child. They feel guilty, so they buy different gifts in order to make amends. But gradually the child ceases to appreciate the gifts, which each time become more expensive and begins to manipulate the parents.


How to be?



Those who spoil the child are ready for any concessions, if only his child would be good. So my mother-in-law gives her son a secret candy, with the words: We will not talk to my mother, this is our secret. Why do so? Why teach a child from childhood to hide something?
The child must clearly know what is possible and what is not. We do not infringe upon his rights, and perhaps even make life easier. With age, he will learn to make choices, but for now with this framework he learns to respond adequately to the situation, be responsible for his actions and control emotions.
The child can be refused, only with this it is necessary to motivate the refusal. I recently went to the store with my son, where he saw some kind of Chinese-made machine and said, I want this for myself.
I told him that toys of such quality will last 1-2 days and I will not buy, it is a waste of money. He resigned. I am sure that if I were with my grandmother, I would surely give a tantrum. I have the best mom in the world, but what she could not refuse, she wrote in the previous topic.
I think you need to be consistent in your actions, i.e. if it was not possible yesterday, it would be impossible today and tomorrow. Tears and whims should not give a positive effect. And even better if the prohibitions of the parents and the older generation will be the same.


Fix bugs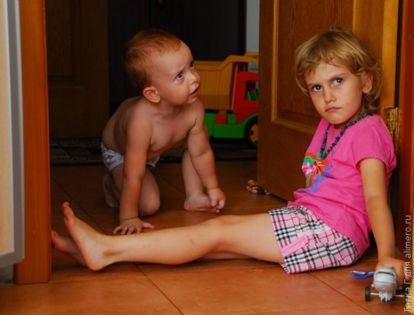 Parents are rarely willing to admit to themselves that they spoiled the child. This happens as long as the child simply does not obey, then he is already trying to act with the help of hysteria. That's when parents start to sound the alarm.
Recently I stood in a queue at the store, and our mother followed the girl. The girl asked to buy a kinder, and her mother said that she had no money.
So the little girl took the egg in her hands and puts it on the ribbon, her mother puts it back in the tray. The child falls to the floor and starts crying with a cry: I want a kinder. Mom gave the pope, and the approached grandmother began to say that the poor girl, who has not a mother, but a stepmother.
As a result, the child was taken under the arm and taken out of the store, and the queue for a long time discussed the bad upbringing of not the child, but MOMS.


What would i do
I have already said that I explain my actions to the child. But I will not do this with hysterics. I will take him out of the store and ask him to calm down, and then I will speak. The child will soon realize that this behavior does not work with a specific person. But then she can try to behave this way with someone else (most often with her grandmother).


findings


Best of all, of course, not to make mistakes, which then would have to fight. But who is not without sin. And if it already happened, then you need to act together. It is necessary that the whole family have the same opinion or reaction to a particular situation.