How do you feel about a stranger, if he comes to your child and begins to teach him to the mind-mind or, on the contrary, flirt with him? There is no unequivocal answer to the question. Since on the one hand, I first of all teach my son to be polite with people around him, but on the other hand, I don't know how good the other person's intentions are.
Therefore, first of all, we, the parents, need to prepare the child so that not only good uncles and aunts will meet on his way, and if they look like they will be, then they will not necessarily have good thoughts and deeds.
Explaining to the child how to respond to a particular situation does not need to be intimidated. Everything should be in moderation, caution and prudence.
Now we hear about terrorism, drug addiction or abduction of children every day, so the feeling of fear for a child overpowers everyone else.
If a child goes to unfamiliar people so badly, is afraid of something, does not sleep at night, then it is better to talk about all the negative moments as calmly as possible, and also to mention that there are much more good people in the world.
If the child is fidget, then it is better for him to repeat the same thing 10 times in order to finally reach him. In this case, it is a vital necessity, not the tediousness of the parents.


Own example
How to react to certain actions of others, you can show your own example. Try not to enter into violent confrontations with an outsider with a child, be polite and watch your expressions, although sometimes you want to use a strong word in response or say that you shouldn't stick your nose at it.
Respond calmly even to their ridiculous remarks, and if they are fair, say that you follow their advice. So your baby learns to listen to the opinions of others and be polite.
If you meet boors, then just step aside and tell the child that this uncle is not very good, since he allows himself such expressions. And that to repeat such words after him or to take them to heart is not worth it. So you can teach the child to get out of the situation correctly, and not to go down to their level, because People who want to quarrel just like that, there will be at any time.


Be careful, stranger!
You should always be around with the child and hear all the questions that others ask him.
Recently, the situation was in the garden, I talked to the teacher, and Vanya ran forward to the playground. The garden is fenced, it was located 20 meters from me. After a couple of minutes, I come to the site, and my child eats a waffle. I was indignant who gave him and why. To which the compassionate grandmother said that it was she who treated him. First of all, I don't know what these waffles are, where they got them from, what the grandmother's hands are, and whether it's possible to eat or not the child at all (he may be allergic).
This is probably my omission, but after that, my son was interviewed that it was impossible to take anything from strangers without the permission of the parents. The same answer applies to the situation when the baby should not tell anyone his home address, do not take any objects, and also go somewhere with someone else's uncle or aunt.
The reaction to the rudeness of the child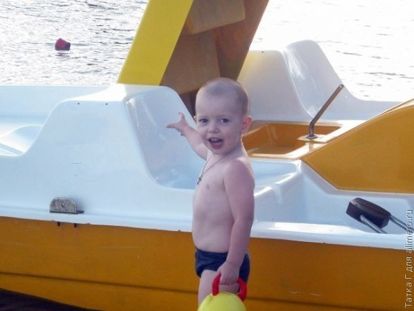 Sometimes there are situations when my son just does not like one of the adults. In general, he is quite active and talkative child. But a couple of times we met acquaintances, and he started to show them the language, and if they made comments, he says that this aunt is not good, let's go home.
I was ashamed and I asked him to apologize. But if you think so, then the child should not at all like my friend, he feels people on an intuitive level. I have to apologize and leave, and then tell him that he is acting impolitely, and not scolding him in public, as if humiliating him, because Children at this age are very vulnerable.
It is very good if a child has what you are talking about. But nevertheless cases happens masses and to provide each of them very difficult. Our son in three years knows his name and surname, as well as his home address, in case he doesn't give God lost.
In general, all information is perceived by children better in the form of a game, and not a boring monologue, and also based on our experience, if the father says so.
The reaction to the attention of adults should be minimal, respond politely and stand aside. The child should know the main actions of those around him, which should alert him in case of something, as well as his main actions in a given situation.
And how do you teach your kids to communicate with strangers?