It often happens that in a kindergarten, while walking, children sadly dig sand in their seats sitting in one place with shovels. And I am very glad that the tutor of my daughter's group prefers active and active games. I see a kindergarten from the windows of my house and almost every day I observe quite active pastime of children.
At first I could not understand what my daughter periodically murmurs for a verse when she returns from the kindergarten. I recently learned that this is a verse from the game. It is in Ukrainian, the meaning is approximately the same: how tired are the mice – they nibbled everything, they all ate, we put the mousetrap – we will catch all the mice !.
Children, depicting mice, dance, while slowly pronouncing the words of the verse. After a loud screech, the children scatter in all directions to hide from the mousetrap, which is depicted by the teacher.
Hopscotch
Do not believe it, but this seemingly long-forgotten game from our childhood still exists and is popular. Children from older groups or a tutor draw a field for play, and kids jump on it.
The ball is the most affordable and safe projectile for outdoor games. It is difficult for them to hurt each other, because the children of the younger groups are not yet so strong physically.
Boys usually play football with each other, girls like to throw the ball at each other or try to hit them on a target – a tree or a wall, for example. Older children play Edible-Inedible.
These classes are of a competitive nature – the tutor gives children various tasks that must be completed with the help of jumps. For example, who faster jumps a certain distance, who jumps further or higher. You can diversify your pastime by jumping on one leg.
I thought that this game has long been forgotten. During my childhood, it was called the game Kwacha. And now I have seen several modern cartoons, as the characters play tag (for example, in the animated series about Luntik and his friends).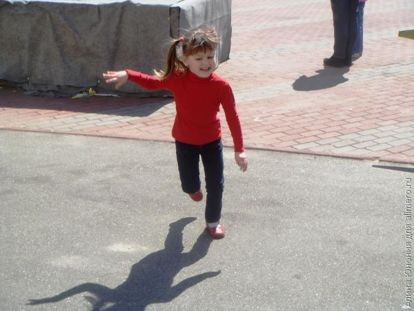 Of course, for the nursery, this game is not suitable, but for the younger group – the very thing.
If there is bad weather outside and the grounds are not suitable for staying (snow is not cleared or there are puddles), then children usually go around the kindergarten. It seems to me that even such a raid on the street is better than being indoors.
Kids alternate different kinds of strides – they march, walk like a heron, jump, etc.
Of course, physical activity is good for children's health. It strengthens health, promotes physical development.
What outdoor games do your children prefer?