You know, from some side, I envy the current small generation. In our time there was no such variety of toys, and now they are made for any family budget. If the family has the opportunity, then you can buy toys of famous brands, if there is no possibility – there are plenty of analogues.
Opinions differ among my mommies. Someone prefers to give a child toys rarely, but accurately. For example, Vika will better buy a toy 2-3 times a year for her children, but it will be something from Chicco or Kiddieland. But Natasha does not understand at all why to spend such money on toys, so she buys the little things the child wants.
I'll show you some of our toys.
I like Noah's Ark from Kiddieland the most. Gave him his youngest daughter on the New Year, when she was 1 year and 5 months. Suitable for children aged 1-3 years. I bought an updated version of this toy. Previously, the ark was released only with the sounds of animals, and now more poems and songs have been added.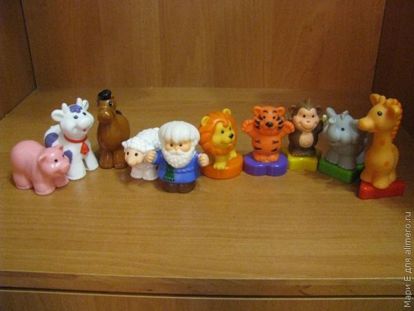 Upstairs are the piano and pets, each of which corresponds to a specific place. At the bottom are Noah at the helm, which turns with a characteristic sound, and wild animals. Animals stand on different geometric shapes, so the ship acts as a sorter.
When you put the animal in place, it makes a distinctive sound, and then a rhyme is pronounced.
The cost at the end of 2013 was about 300 UAH. (1200 rub.) In the internet.
This toy gave us a godmother for 1 year.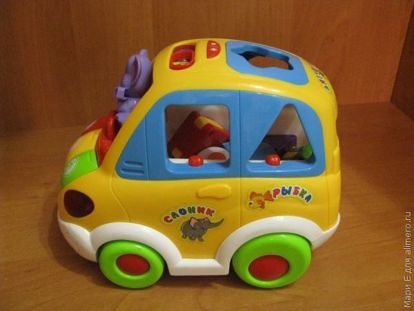 Her daughter was playing for a very long time. At first she liked the way she goes and sings, and then she was attracted to toys. If you click on them, they are revealed in the form of animals. I'll try to show you on the photo.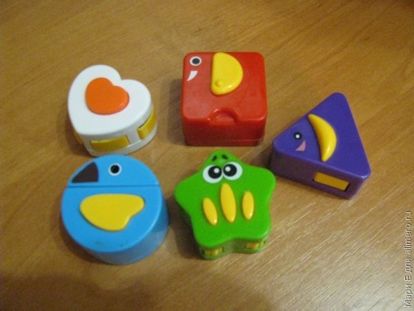 That's how they look in the expanded form.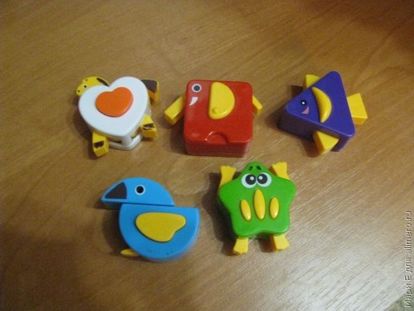 This toy is an example of what you can buy a quality item at an affordable price. Last summer it cost 150 UAH (600 rub.) On the market. The car had already fallen from different heights many times, but it had no effect on it. And, by the way, you can carry it with you on a string.
She was also given to us after a year, but she could have played her before. When a child puts on a toy, each time a different tune sounds, and when the head is put on, the duck starts to melodiously quack. There are also light effects.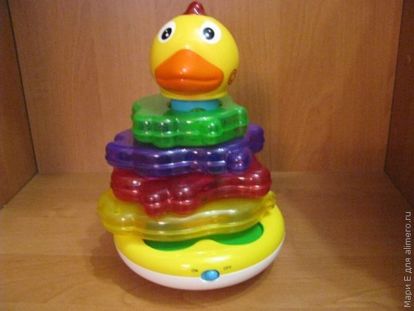 This toy can be presented to the youngest children, because it can be disassembled and used as a rattle.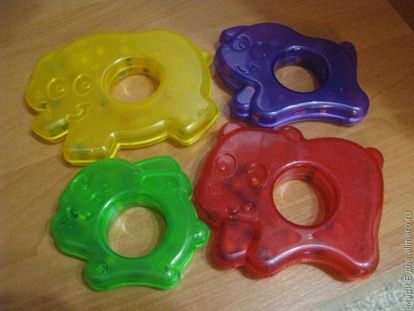 I would only like it to be a conical shape and the child learned to fold toys to size.
We did not buy this toy – we were given to use. This includes 2 fishing rods with a magnet and six figures with a magnet. The most interesting thing is that there is a very small magnet on the fishing pole and toys. At first, it is quite difficult for a child to get into the center of a fish or a star.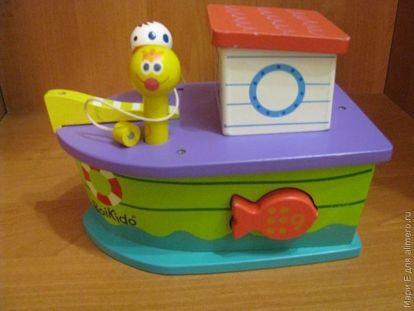 My daughter spent a few days above him, but as soon as she learned to quickly catch stars and fish, she became completely uninterested in her.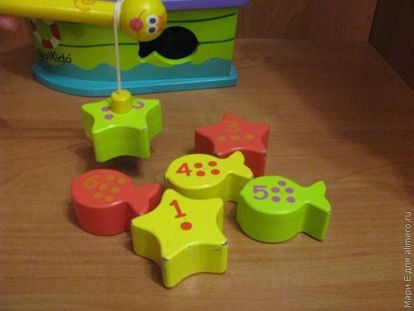 And if it periodically returns to some toys, then it completely lost interest in this ship.
And although I have 2 girls, but they really like this car, because they love to do something with their hands. The car drives and sings a song, but in English. You can unscrew the wheels, hammer the nails into special holes or tighten the screws.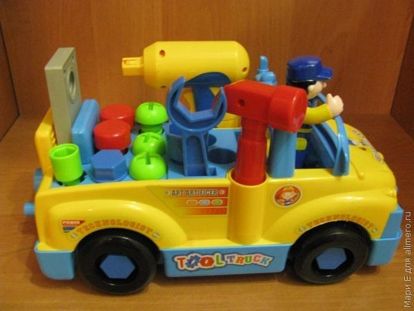 To tighten the screws, you can simply use a screwdriver, or you can put it on a screwdriver that works for both spin and spin. There is also a key for bolts and a nozzle for tightening the bolts with a screwdriver.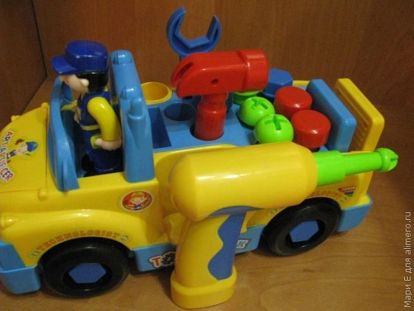 For a boy, I think it's a very good toy, although my daughter now really likes everything to unwind and hammer nails.
I told you about some toys that are interesting to my children.
What kind of educational toys do your children have?