The summer menu differs from the winter one not only in the abundance of seasonal fruits and vegetables. Adjustments are made by the weather, the regime, and the way of life in general. So, in the summer our kindergarten does not work, so we will not have traditional beets and pea soup, unfortunately.
In the summer I prefer to cook simple and light soups. Agree, in the heat is much preferable to eat a bowl of vegetable soup with meatballs than thick and rich borscht.
We love green borscht from sorrel, so at the dacha, a separate bed is allocated for sorrel. Sometimes my daughter eats okroshka, which I cook on kefir.
Here, in principle, there are no special differences. Regardless of the season, the daughter loves meat dishes – meatballs, chops, meatballs. However, in the summer I try to introduce more fish into the diet, yet the body is easier to digest it, and in the heat I don't want to overload the gut.
Here, of course, is where to roam. Whenever possible I try to add vegetables to the menu as often as possible. This is an abundance of salads, and additives to cereals, pancakes, pancakes, cheesecakes instead of traditional winter honey, jam and sour cream.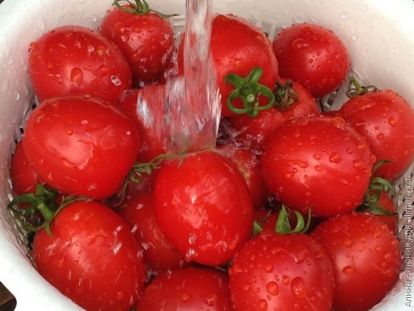 In the summer, at lunch time, her daughter eats only fruits and berries. It seems to me that a plate of strawberries is more useful than a bun or cottage cheese. By the way, I try to avoid dairy products in the summer, because in the heat they deteriorate very quickly.
Our hit is, of course, ice cream. Unlike me, my daughter loves him very much and is ready to eat all day long, because in the heat it is so nice to pamper yourself with a cool delicacy!
As a sweets daughter eats berries and fruits. We look forward to when it is time to watermelons and melons, which we love very much.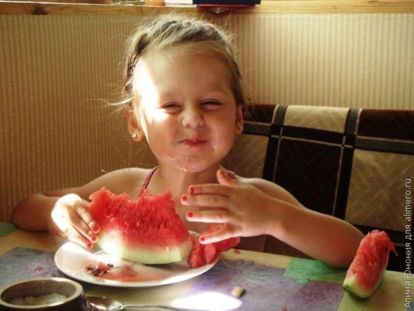 Our main drink, regardless of the season, is water. In the morning, the daughter drinks tea; at the rest of the day, she prefers plain water.
Maintain the body's water balance is very important, especially in the heat. Indeed, dehydration is very harmful for all organ systems. Both myself and my daughter, I have long been accustomed to drink often and a lot. One of my friends sometimes does not take water for a walk with a child, to my question he answers that he walks not for long – an hour and a half. I do not understand this, apparently.
Pediatricians claim that the daily rate for a preschool child is 50 ml of fluid per 1 kg of weight. Therefore, I make sure that my daughter receives at least 1200-1300 ml per day. In the summer, the volume of fluid may increase due to heat.
And what changes does summer make to the nutrition of your children?