My son likes to do various crafts. I am looking for ideas for joint activities on the Internet. Somehow I came across a picture of natural material, she was very impressed with me, my son liked it too. We both fired up to create something like this.
We spent the whole autumn harvesting everything we needed. For the picture we needed:
– Whatman paper
– moss
– dry grass (hay)
– gouache
– tassels
– rods from a rod (for tyn) and a broom (for home)
– salty dough
– liquid Nails
– blue fabric
– sheet dvp.
As soon as we prepared everything, we began to create our picture. To begin with, we glued a drawing paper to a sheet of fiberboard. Then blue gouache painted half of the sheet (it will be the sky). Our next step is to make a plan of the picture (in pencil we have designated where the house will be, the meadow, the river, the main road, the trees, the trees).
By the way, we made a similar picture in the garden.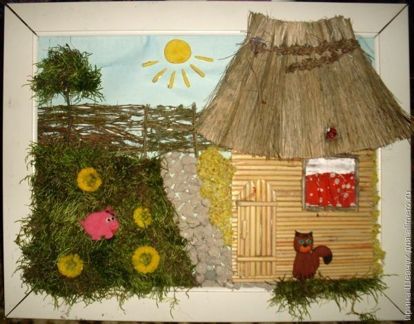 Getting Started
The hardest thing in our work is to make a home. Here we started it. From thin rods of a broom (our grandmother grows brooms in the garden) they cut off the sticks of the same length and glued them with liquid nails to a small piece of drawing paper. As soon as the house was the right height, they stuck it to the picture at the place we had set aside for it.
The next step is the roof. We made her from hay. We tied the dry grass of the same length into small bunches and glued it to the base (to keep it tight), and then we stuck the roof to the house.
When the house was ready, proceeded to the river. We made it from blue fabric. The place where there would be a river was smeared with a thick layer of glue (using liquid nails), a cloth was applied and waves were made.
The next stage is grass. For grass, we used dry moss. We glued it around the perimeter of our glade. Between the clearing and the garden (made just from the ground) they pasted a path from the small pebbles that led to the house.
We separated the horizon with a tail (made from thin twigs of willow). Thuja sprig trees. A flower bed near the house we have from the dry immortelle flowers.
From salt dough we made flowers for the meadow, lilies for the river, a bench with a cat for the house and a ladybird for the roof. And dough made the sun.
Reeds are toothpicks with cotton colored brown.
Of the disadvantages:
– moss quickly loses appearance if not tinted
– dough figures fade if they are not opened with varnish
– some details may disappear if they are poorly glued.
And here is another one of our picture.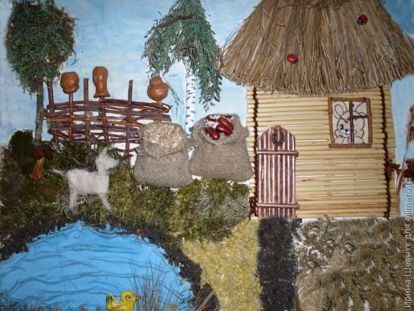 And what crafts do you do with your children?