Now my son is in the third grade. English lessons he loves. A child learns from different textbooks at the same time in order to take something from everyone. If clarified, this is what I teach him from various sources. I do not speak English perfectly, but I can teach a child to express thoughts.
In general, English in our family is in high esteem. We even teach father to speak with us in a language unfamiliar to him. The oldest member of our family is not doing as well as Nazar.
Our acquaintance with a new language
I have taught my child English since childhood. On the way to kindergarten, we had a lot of time, so in vain we did not lose it. Then the son was 4 years old. Every morning, on the way to kindergarten and back, in English we looked at the trees, said what color the car drove through, looked for dogs and cats to call them dog and cat.
The child was interested in such an informative game, and he began to ask himself how the word flower, bird, boy, etc. would be in English. My son was fun, and I was glad that I was able to interest him in a new language for him, but still a stranger.
So we walked every day for 40 minutes, walking to kindergarten and back, which gave training. I could hire a tutor, but for elementary things, and even in a playful way, I decided that I could do it myself.
English in kindergarten
When the child was 5 years old and he moved to the preparatory group, they began to learn a foreign language in kindergarten. Twice a week a teacher would come in, who spoke with them only in English, sang and danced with the children. She also played games with them where you had to guess English words.
The child still remembers those lessons with a smile – he had fun. And I am grateful to the director of the kindergarten for the fact that she was able to find the means and invite a good teacher.
English at school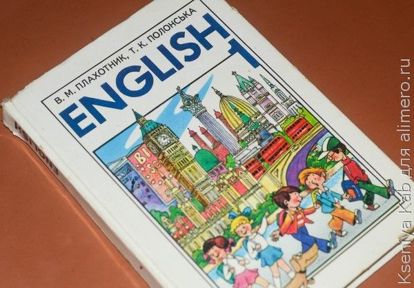 In the first class we ran into a problem. The school program for learning English was frankly terrible. Even then I wondered how to teach a child using such a chaotic system. In principle, there was not even a logical system.
A child from the first school lesson was offered to make suggestions, answer questions, etc. The son was well versed in the names of the surrounding subjects, but this was not enough for the school program. A child's interest in English lessons plummeted.
Summer vacations after the first class were spent learning English. We taught him from different sources, used computer programs and compiled hint tables.
Nazar spread his wings again and began to show initiative with interest. Often one could hear the phrase: Mom, let's talk in English !.
The second class was too saturated with new knowledge, and we abandoned the desire to learn English at home. Although the summer holidays again served us to study. Now the child can speak and express elementary requests in a foreign language, ask questions and answer them.
On the lessons, as on a holiday! It's such a pleasure for the son to go to school when English is on the schedule. I hope this excitement to the new will not disappear from him, because I can still give him a lot of knowledge and experience.
As you can see, learning English is not as difficult as it seems. If you have a basic knowledge of the language, then you do not even need to hire a paid tutor. The main thing is to interest the child and convince that the English language will open new doors for a happy life in the future.
Do you teach your children English? How do you do it?