I love jewelry. But surprisingly: I have absolutely nothing. No earrings, no bracelet, not even a ring. Although, quite recently, I enjoyed looking at how a chain glitters around my neck or a wedding ring sparkles. Apparently, I became indifferent to gold. It happens.
As for the daughter, she has a lot of jewelry and gold earrings. About them I also will tell.
The thing is, my mother-in-law bought gold earrings for my daughter's birthday. They are beautiful, I do not argue. But more suitable preschooler, than one year old child. As soon as I gave it, I immediately began to ask when we were planning to pierce her ears. And then she began to insist that she would be quicker. Like, they lie to themselves without cause, the same beauty disappears.
About how we pierced ears, I wrote a topic. But we pierced the ears first with medical earrings. And only then, a month later, at the request of my grandmother, they put on gold. I was in no hurry: I was afraid that they would disturb their daughters, she would get used to them for a long time. But everything worked out.
The first time her daughter lost her earring at home, in bed. The night before I had a bad dream. But then I did not give it a serious meaning. I thought that would cost. We woke up in the morning, as usual, I braid my daughter. I see that there are no earrings. They rushed to look for: they rummaged everything, and she rolled under the pillow.
I am a terrible alarmist, I confess honestly. Because she screamed and tried hard to find her. When the loss was found, I was relieved to realize that I was just in vain worried. From home, she could not go anywhere.
The second time my daughter lost her earring in the kindergarten. And it happened so. I came in the evening to pick her up from the kindergarten and saw that she had only one earring. The teacher told me about the loss. You know, for some reason it hurt me so much that I almost cried.
Blame the teacher? After all, having questioned my daughter, I realized that she could not disappear without a trace in the group. It was either stolen or not found yet. But the teachers rummaged in the group all together with the children. And found nothing. And I already mentally said goodbye to earrings.
We removed the earring and put on simple carnations, the very medical ones. How many we went through them, I do not remember, probably about a month. I tried not to talk with the teachers. And they promised me that she must be there!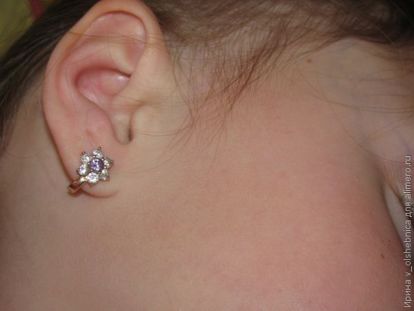 We continued to go to the kindergarten. And one evening, when I came to pick up my daughter in the kindergarten, I was told that our earring was found. She was found by a cleaning lady in a classroom where children have physical education in the morning. Only for comparison, the woman asked to bring me a second one to make sure that it was exactly that earring.
In the morning I came to the cleaner and showed me the earring. She got me the rolls, which was our missing. Only she was bent. Apparently, someone trampled on it well. A herd of elephants … A lovely woman said she found her under her mats during harvesting.
I did not even hope that our loss would be found! To celebrate, she kissed the cleaning lady. And she asked her daughter to bring her sweets and oranges. As you can see, the world is not without good people!
Do you often lose something? Have you had any such or similar stories?