Recently it was summer, and today we are already thinking about winter clothes for a child. How much we want from her: warm, beautiful, comfortable. It would seem that we have a huge choice – from the market to foreign online stores. But what is to choose?
For preschoolers there are several options: one-piece jumpsuit, pants / jacket, long jacket. Many mothers confidently make a choice in favor of the first option, guided by the principle so as not to blow into the back. My daughter uniform jumpsuit was only aged 6-9 months when she slept in a stroller.
It seems to me terribly uncomfortable. For example, what if you need to go to visit a cafe or a theater? Constantly carry a set of change of clothes? This option seems to me acceptable only when it is an alternative. For walks in the fresh air, for example. To, indeed, in the back did not blow.
The most optimal for us is jacket and warm pants. Firstly, due to the leg-leggedness of the daughter of the part of the kit, we buy different sizes and even different TM. Secondly, I always choose pants not just with suspenders, but with a closed top. Ie, back, again, not blowing.
And thirdly, you can wear a jacket separately with any other trousers, leggings or leggings (with overalls this does not work). For example, the previous winter was dry and not particularly cold, so for a month and a half, the daughter wore ordinary jeans or jeans on fleece.
About long jacket and coat we do not have personal experience yet, but it will be soon. This jacket is already hanging in our closet – waiting for the winter. But it seems to me that for children under five, this option is inconvenient.
The first daughter's jacket was on down. Then I was still young and inexperienced, I only knew that fluff is warm. How many times have I reproached myself when I washed this jacket. The daughter was 1.5 years old, the winter was very slushy. Wash often had to erase. What pleased me – the daughter never froze, but here it is worth considering the fact of having high pants.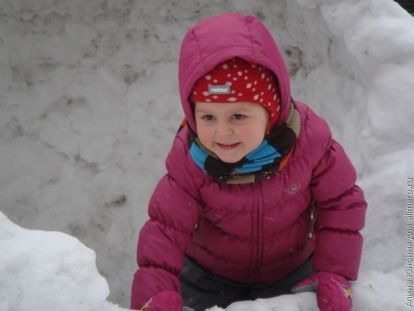 But women's logic is sometimes inexplicable, so for the next winter, we bought a jacket for our daughter to rest in peace. My argument was iron: Ah, what a beautiful belt buckle she has !. And again, I kneaded the fluff by hand in the long winter evenings.
Then I got smarter and acquired membrane jacket. Honestly, I like this option the most. First, it is light and thin, like a windbreaker with a lining. Secondly, it is wind and waterproof. Thirdly, it is easy to wash it, and it dries overnight. By the way, sometimes washing can be avoided – just wipe the surface with a damp cloth to remove contamination.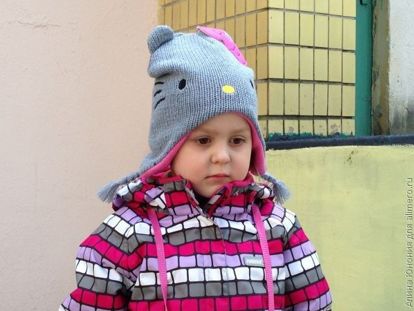 Fourth, to my great joy, this jacket was enough for us for two winters. And this is despite the fact that the daughter is growing pretty quickly. The simple fact is that the length of the sleeve in our model is adjustable.
Intermediate option – synthetic winterizer and holofiber. Here, the advantage – the price, the ability to retain heat – is no worse than that of down. There is practically no difficulty in caring, except that a poor-quality filler can get off and tear inside the product.
Still, my choice – new technologies and membrane clothing. For active children, this is a great option. If funds allow, you can, of course, additionally purchase both a fur coat and a coat, but at -20 such clothes are not very useful.
Pooh keeps its warmth just as well, but caring for it kills me. I tried to wash the jacket with balls, in different modes, but no use. After each wash, I sat for an hour and a half and kneaded each lump manually. Dry cleaning is not cheap now, and children's things get dirty often.
What kind of winter clothes do your children prefer?