An egoist child grows up or not, depends on education. This is my firm conviction – I will try to convince you, if you do not agree.
I still have one child in the family – a daughter of 4 years. What will happen next and whether replenishment will be in the family – as God will give. I do not predict anything here. But now I have enough trouble and worries with my daughter. Somewhere from the age of 3 I began to notice that selfishness in my daughter was progressing. And I do not want her to grow only on the word I want. Yes, she is alone now and we spoil her, but everything has a measure and boundaries. I want to talk about them.
Example before eyes
And I thought about childish egoism before the birth of my daughter. And all because I had a not very pleasant example before my eyes. I had a favorite math teacher at school. She gave herself to the school and ungrateful students. She had a son. We, I admit honestly, were all in love with him.
He was a very handsome boy. Older us a couple of years. He drove the whole neighborhood crazy. Mom tried to dress him in the best stores, gave him expensive gifts, bought the latest electronics innovations. She had this opportunity. Her husband, and his father, went to sea. This boy grew up and did not need anything.
But the tale ends, everyone knows about it. Permissiveness of the child turned into a tragedy for the mother. At 18, he became a drug addict, at 20 she put him in a clinic, and when he turned 22, she came down from a stroke herself. The husband died of a heart attack, and the son took all the savings and left for an unknown destination.
This story touched me. I knew my teacher a cheerful and active woman, and now I am seeing a lonely and useless old woman. Looking at the mistakes that she made with her son, I just thought about how not to raise an egoist from my daughter, who would not be suitable for a sick mother.
My ways to prevent the development of egoism
I noticed the first conscious selfish manifestations in my daughter for about 2 years. It is clear that she is alone, everything gets only to her, but she should not grow as a proprietress and not share anything. Of course, I understand that at this age all children are proprietors, but when she refused to share candy with me, I realized that it was time to take action.
The first thing I tried to talk to her. The conversation was long. Periodically, I returned to him for a week, so that it stuck in her brain and took root.
Then I began to show my daughter by my example that everything in the house belongs to us all. This and some household items, and products. My husband and I showed our daughters in a playful way how wonderful it is to give and receive something. Progress became noticeable after a month. My daughter stopped immediately pulling candy in her mouth, and tried to share it with her neighbor.
But the manifestation of selfishness is not only candy and sweets. This attention, hands, knees, the best place in the car and the most beautiful toy. We exclude the whims, leaving the selfish component.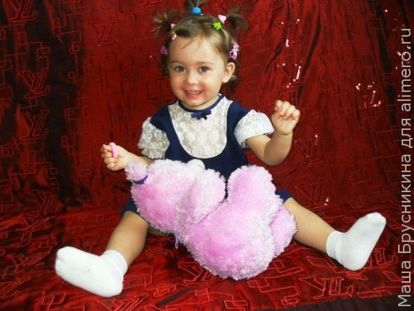 I am working on this moment right now. It is important to show our daughter that the world is turning not only around her and everyone in our family has the same rights. Of course, I slip the most delicious piece to my baby, but now she takes a spoon and break off the snack and mom.
How do you struggle with the manifestation of childish selfishness in your family?