I have a little inventor growing up! Who teaches her only this? All that Grandma wants to throw in the trash, she drags into our room and comes up with games.
For example, rolls of toilet paper are like cubes. With them she builds something. He says that this is a house or a town for animals. Disposable picnic plates with us – a way to pump up the legs or just ride on the carpet. Original, right? But, you know, there is something in it. I myself tried to ride these plates and realized that you could do fitness this way!
Coming up on the go
I have a girl friend. She sells toys. I have been terrorizing it for a long time about large cardboard boxes. I need them in order to build a Barbie dollhouse. And the other day I brought these boxes to the house. My daughter helped to inform.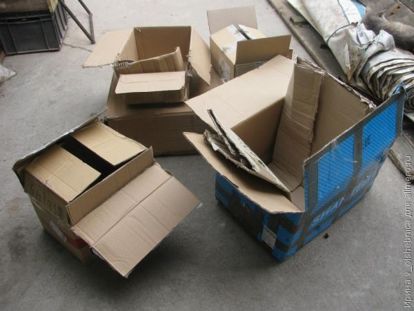 While I was examining the boxes, my girl climbed into one of them and began to play there with her younger brother. In the box from the desk, she found a protective strip, or something, I do not know how correctly it is called. This protection was attached to the desk so that during transport the corners of the stave and chairs would not be beaten or damaged.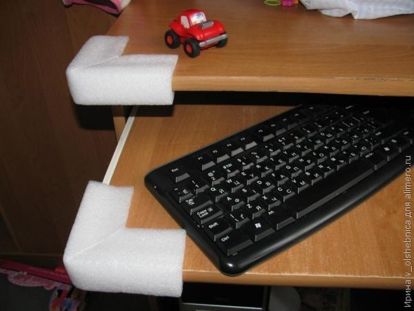 In general, she immediately found her use. Put this soft protection on the corner of the table. I, frankly, have seen such soft corners in online stores. The kit costs 18 UAH. And here is completely free.
– Mom, look what I came up with! This is to ensure that Egorchik does not hit his head!
And it is. The younger son was constantly hitting this edge of the table when he was climbing into my arms. And bruises could not be avoided. The sister decided to protect him from the blows! Thank her for that!


House idea
As I said, I decided to make housing for Barbie dolls. But the daughter decided that she herself wanted to be Barbie. I had to build a house for my princess. Imagine, she had already planned everything herself: and how tall a house should be (in her height, that's it), and where the windows and doors are, and what the house will be.
It is just a box, without a roof. And Veronica imagines herself: she put a towel on top – this is a temporary roof, she laid a blanket on the floor, and nearly fell asleep there. Today I will be making this house further, then I will share a photo with you.


Creativity
Oh, I have an idea! – My child recently says this phrase quite often. Previously, I was pleasantly surprised by her creativity, now I'm used to it. Many children give out some of their chips. After all, they look at the world around them in their own way.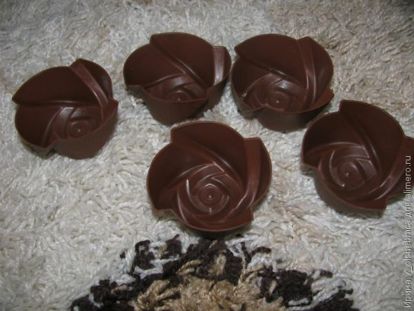 They are not loaded with the experience of life, traditional, adult ideas, rules, laws of being. They are all completely different. It is we who, in cupcake cups, see their intended purpose. And my kids have boats that swim in the pool.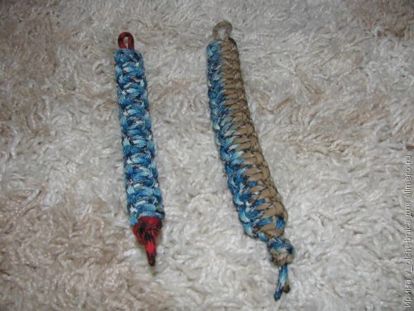 A dad-bound bracelet is a snake that sizzles and hides in the hole under the carpet. And, as it turns out, she is very amusing and amusing her brother. And there are many such examples.
How do I feel about this


You know, to such non-standard ideas, I am calm. Yes, I know many mummies who scold children for taking something without demand, playing, even with the very same molds. But why? As they say in one cartoon: You do not give talent to develop !.
And I allow something to invent, invent, chemize. Yes, there is a minus in this – we have a lot of different things everywhere: on the upper shelves, on the closets, among the toys. We do not have time, of course, to do everything that we want. But the main thing is aspiration.
We, adults, in the hurry and turmoil of everyday life, do not notice their own children. We often say: What are you saying? This is nonsense and nonsense !. And as usual, these are the most important moments for children. Just think about it: do you really want so that this golden, happy childhood time is over? Do you want your children to grow up instantly and become ordinary adult aunts and uncles?
Perhaps I may seem strange to you, but I want my children to be small … They will always have time to grow and grow up! And it will be very difficult to bring them back to my childhood, in my warm embraces … Therefore, let your toddler create, invent, dream! This is so important and necessary for them!
And what are your children coming up with? Do they often create something?