When the little kid is sick – it's always scary. But when I come across obstructive bronchitis, I realized: all the cold diseases before were far from being so terrible.
What is this disease?
Obstructive bronchitis is a common acute bronchitis, but it is accompanied by a spasm of the bronchi, or it is also scientifically called obstruction. When this disease is observed cough, fever, difficulty breathing, wheezing in the bronchi, which can be heard even without any devices.
The first time this bronchitis appeared in the daughter in the fall. It all started with a cold. I somehow did not attach any importance to this, so we didn't go to the doctor, but we went for a walk, although the weather was rather cool. The next day, my daughter had cough and fever.
I called the doctor, but she came only in the evening. And by this time, all the symptoms were added breathing with a wheeze and a whistle. In addition, the daughter became very sleepy: she slept every hour.
The doctor ascertained obstructive bronchitis in a child and prescribed a referral to the hospital. There my daughter was injected with papaverine, which has a relaxing effect on muscles. Due to this bronchospasm passed. But they didn't let us go home.
The treatment consisted of injections of antibiotics and inhalation of inhalations. By the way, it is inhalers that help to relieve spasm in case of emergency. We even had to buy it when our daughter fell ill for the second time with just such bronchitis.
Fortunately, the second time we did without antibiotics. Just 2 times a day, the daughter inhaled through the inhalator inhalene, drank cough medicine and to strengthen the immune system. And after about 2 weeks everything went.
Then, for prevention, the doctor prescribed inhalation with Trisol. This is a common solution of several salts.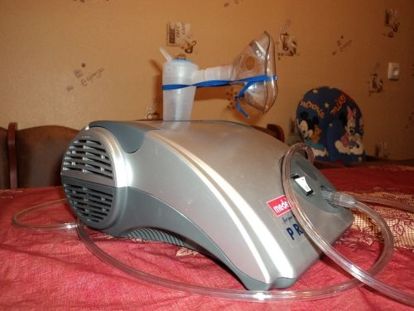 By the way, when my daughter got obstructive bronchitis, I found a lot of information about this disease. It turned out that it is quite rare. Doctors even explained to us that it is more likely to be associated with an allergic reaction to something. But what was the allergy in our case, I did not understand.
However, the doctor prescribed a diet. Not for weight loss, of course. Just exclude all harmful products. And all that can be used in its natural form. For example, cottage cheese, milk is better to buy not from a store, but from trusted people.
Frozen meat fell under a categorical ban. Industrial juices as well. I do not know whether the diet worked or the inhalations were so effective, but this disease did not go more than us.