Recently, my daughter and I were so fascinated with quilling that we somehow stopped paying attention to other types of creativity. And in vain! Recently, we went to the stationery shop and found many new products there that we had never seen before.
The mass of new ideas, the only minus of all this is the cost. However, there is also a way to save a little – to order via the Internet or make purchases at the wholesale bases.
Seeing that the real wall clock can be made with your own hands, the daughter immediately caught fire with this idea. Of course, this is not an ordinary picture, but an odd job with the most real clockwork in the kit!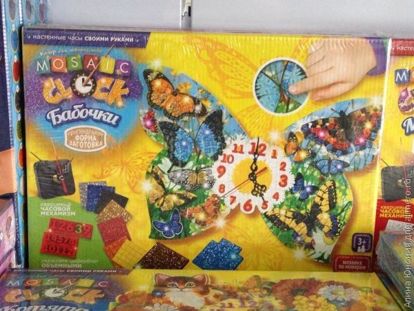 There are several variations of the dial: from colored sand, shiny sticky mosaic or embroidery with satin ribbons. I don't like to clean the sand, it's difficult to embroider with ribbons even for me, but sticky mosaic is the best option.
About an hour my daughter could not be heard – she enthusiastically worked. Then we attached the mechanism to the dial and the watch is ready! Important advice: contrary to the instructions, do not stick a loop on the tape, better think up a stronger mount, otherwise our watch has fallen the next day.
Such kits are available in several versions – for boys and girls. A great gift for children of preschool age, and the finished crafts are guaranteed to please the grandmothers.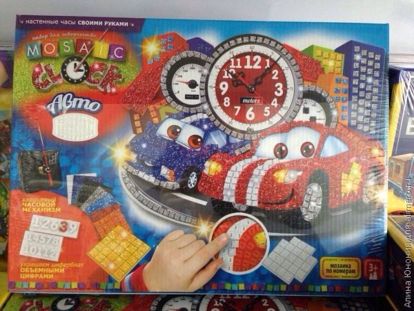 Crafts made from beads are not only beaded trees, which are designed for the age of 10. There are sets and simpler ones — single flowers or animals that can be used as pendants or key rings.
Of course, a set in a beautiful box is more convenient and more beautiful, but it is much cheaper to buy beads and wire separately, and create crafts for master classes on the Internet.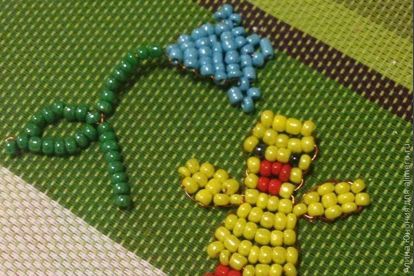 For a start, it is better to pick up beads larger, yet children cope with it difficult. Weave, again, better on the wire, not on the fishing line. A great addition to this hobby is the organizer for beads and beads.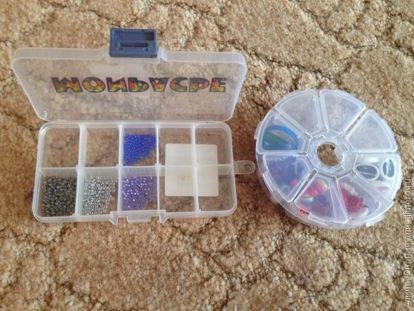 I already wrote a more detailed article on this topic before. For those who doubt whether the children will succeed or not, I advise you to get a simple kit for creating crafts in this technique.
It will cost much less than a large bundle of paper strips and a professional hook. The set usually contains the necessary minimum – a few strips, a picture-diagram and a cardboard base. Instead of the hook, you can use a gypsy needle or a regular knitting needle.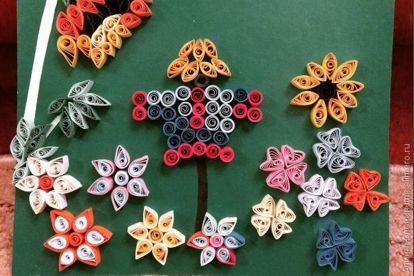 Plaster crafts
We sell not only ready-made plaster figures for coloring, but also sets for creating magnets, frames for photos and much more. For a start, the foundation must be created from gypsum in powder and water.
Honestly, the first pancake we got a lump. Rather, even the first two pancakes. At first I did not take into account that the liquid gypsum solidifies too quickly, so I did not even have time to pour the mass into the mold, as it took a piece.
Then we still managed to do it, but my daughter and I were too impatient, and early tried to get the frame out of shape. As a result, she split. Tip: you must wait at least 10-12 hours.
We were saved by alabaster, which we found with our grandfather. We used it instead of gypsum, it froze just the same, apparently no difference. We painted the finished figures with the colors that were included. It turned out bright, beautiful and original.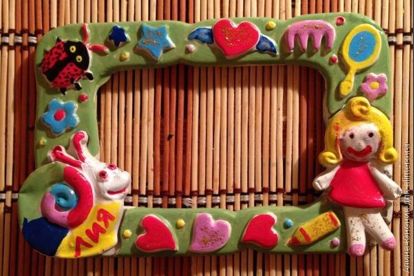 Gum weave
We have not yet mastered this type of creativity, but it seems to me that it is not far off. Recently, we were visiting where our daughter saw her friend doing this. Material for weaving – bright silicone gum of different colors, which are now being sold at us at every step.
You can weave on a special machine, which is purchased separately, or on the fingers. You can create not only bracelets, but also many other jewelry, charms and even phone cases.
Have you tried such kits? What are your kids interested in right now?