Winter is in full swing and it's time to tell preschoolers about this time of year. We discuss with our daughter what is characteristic of winter – snow, frost, ice. We also draw the winter using different techniques and at the same time we study the basic physical properties of water, because snow is also water.
Salt and acrylic paints

We decided to portray the winter landscape with acrylic paints and salt. In general, I really like to paint on colored paper with white paints. It turns out always beautiful and unusual. We took a sheet of blue paper and first used paint to paint snow, wood, and a house, and then covered it with salt. When everything was dry, salt, we shook off and got snowdrifts.
I like this reception a lot too. You need to take an old toothbrush, a wooden pencil or a stick, and again white paint. We sprayed snowflakes on the already finished pattern, but you can use this technique yourself. So, dip the brush in the paint and draw it with a stick. Spray direct to the paper. We got the whole snow sweeps!
Drawing on ice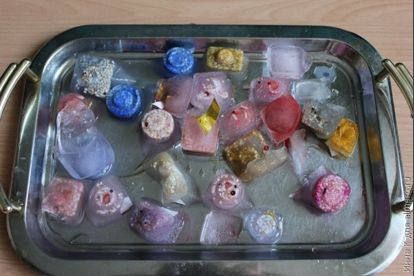 I liked this technique so much that it seems to me that it is worthy of a separate topic! We were tired of painting the paper, and we got to this ice. We pour it on a tray. This is necessary, otherwise the whole room will be in colored water. We give the child in the hands of a brush and jars of gouache. The first stage – the child simply draws on the ice. It is fun and beautiful.

And in the second stage, we sprinkle the ice with salt. And what reaction does it take when ice and salt combine? 🙂 That's right, the ice starts to melt. The freezing point of the salt solution is lower than that of ordinary water, so when it hits the ice, the salt begins to make small holes in it.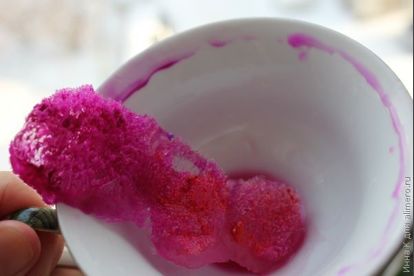 This is an amazingly beautiful process. The paints start to seep through these tiny holes, and it turns out that capillaries appear on the ice.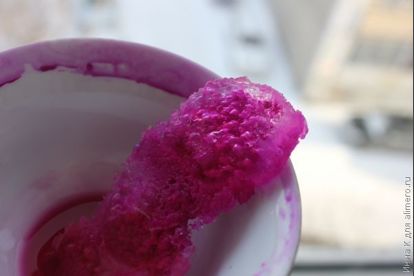 And if you take a big piece of ice and sprinkle it with salt, it will also crackle! I just defrosted the freezer, took out such a piece, and while there were no children, sprinkled it with salt and watched the reaction. 🙂 Why without children? Yes, because by that time I was already tired of wiping puddles of paint and ice on the floor. 🙂
Drawing with ice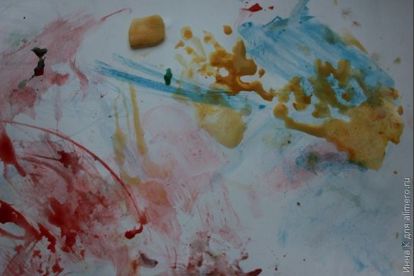 And now we will go the other way and will draw with frozen ice. Dilute the paint in water and pour into the molds. Then we take them out and until they melted, we draw. So that the pens would not freeze, I put gloves on my daughter. Here is the abstraction we have.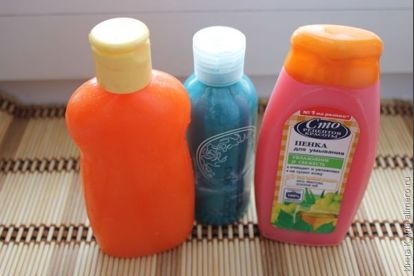 Well, this method is for those who have already been stunned by the winter holidays, white snow outside the window and frost. Who said that snow can not be painted? Can! Dilute the paint with water and fill in the bubbles. We used out of makeup. Now we dress warmly (we just had frosts) and go!


We chose a site with white snow and our daughters enjoyed painting on it with bright colors. True the bottles turned out to be small, and the paint quickly ended.
Even the usual drawing lesson can be turned into an exciting game and educational exercise. The main thing to include fantasy!
And what unconventional techniques of drawing winter do you know?