Many children have various neurological abnormalities, starting with hyperactivity and ending with severe neurological disorders.
When I was pregnant, I could not even imagine that by the age of three the card of my child would look like a Talmud … But fate decided otherwise.
I gave birth to a daughter at 35-36 weeks. The child suffered a brain, as my amniotic fluid was leaking for two weeks. My daughter breathed herself and with a weight of 2490 we were sent to a regular ward.
For a week Masha was lying under quartz due to jaundice, she was also given a drip with glucose, since she could not take her breast because of a weak sucking reflex.
We were discharged from the maternity hospital with the following diagnosis: hypoxic-ischemic damage to the central nervous system (HIPS CNS), hypotonia.
When I eventually learned that the dry period, for example, in Russia, was allowed 72 hours, was slightly in shock, mine was 272 hours. Since it was too early, the doctors decided to save me, but they had to stimulate me, because the brain of the child suffered.
The doctors did not warn me what consequences a child might have over time, so I was not very worried. When my daughter grew up, I began to notice that she was not as active as the other children, and somehow sluggish. She spoke about this to her husband, but he did not want to believe in any deviations and said that I was inventing.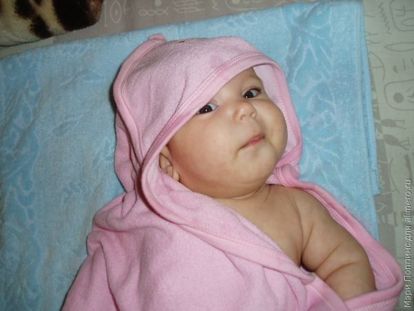 The child was then insured for a year, since I worked in an insurance company. We met with a neurologist for another examination and a verdict was announced to us – the central nervous system hypothesis and hypotoneus were accompanied by a delay in statico-kinetic and mental development. Then our difficult struggle began.
In the first months of her life, her daughter suffered greatly from colic, and could not even properly cope with great need. Sometimes they called an ambulance because they could not calm the child down. This was due to intestinal hypotonus.
There were problems with sleep. They appeared and just as suddenly passed by themselves. It happened that the daughter could not fall asleep for several hours, jerked strongly with their feet. Naturally, we made an electroencephalogram to eliminate seizures and epiactivity. Thank God, even though this was all right.
Having a brain damage, in addition to going to the doctors, we had to do two times an MRI under general anesthesia, which is a real test for parents with tears and pain.

What we did
I will tell you honestly that the first year of my daughter's life was a living hell for me. You have no idea how many doctors we went around to cope with the problem. They constantly did massages, every day I did my daughter's exercises on the ball and in the water, drank various medications that stimulated brain activity.
My child was not outwardly different from others, just the daughter began to do everything later. She turned over at 5 months, kept her head at 3, crawled closer to the year, and took the first steps at 1.5 years old. Every little success for us was a huge victory. Genetic abnormalities have excluded us, thank God.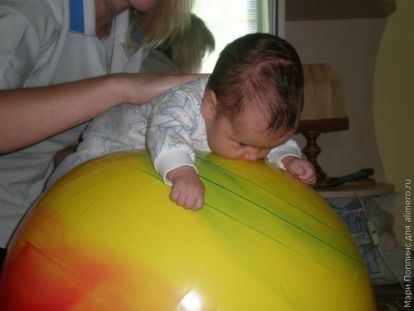 Three years ago, we registered at a rehabilitation center for children with organic lesions of the central nervous system. The children there are very heavy, but there are people like us. Last winter we had a rehabilitation course with our daughter: massages, physiotherapy exercises, classes with a bobat-teacher, a special teacher, a psychologist. All this has gone to our advantage.
At the moment, the daughter attends a regular kindergarten, in which there is an inclusive group (several children with no heavy features). She likes it very much, communicates and plays with children. She looks like an ordinary child, but our problem is always with me and I see it every day. Also, Masha has light coordination disorders and a chest deformity.
My daughter and I periodically go to a rehabilitation center for testing and examination by specialists. They tell me how to properly engage and communicate with the child, what tasks to perform, what to teach, etc.
Do not give up if your child has a neurological disease. We must understand the problem and deal with it. We are not all robots, and sometimes a blues rolls over me, but I understand that I won't fix anything with it. I love my daughter very much and I believe that everything will work out and everything will be fine. May your children be always healthy!