My son often suffers from colds, which are accompanied by severe cough and runny nose. Therefore, to help the child get better faster, I use a nebulizer for inhalation. And I want to talk about the medicinal solutions that I applied.
Cough
We have recently been frequent with coughing. I will only cure the child, as he descends into the garden and again everything is new. We drink syrups, but they do not really help. And since they have long wanted to buy a nebulizer, they finally purchased it and started testing it.
First of all, I experienced borzhomi inhalation with alkaline water, then my son also breathed. Positive sensations appeared immediately. It became somehow easier to breathe. For several days, dry cough turned into a wet one.
The phlegm began to thin and cough, which is very good in itself. Inhalation with Borjomi, we did 3 times a day. Our nebulizer is designed for 4 ml of liquid. From the first day of such inhalations, the child slept well at night and did not suffer from a terrible cough.
On the advice of our pediatrician to these inhalations we connected inhalations with Lasolvan in ampoules. Lasolvan well helps to cope with viscous sputum. We did such inhalations once a day. To prepare the solution you need 2 ml of Lasolvana and 2 ml of saline. That is, the day I spent on the ampoule of Lasolvan and saline.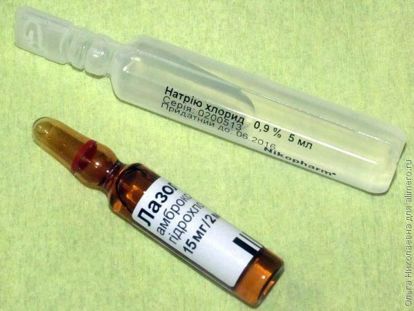 So, alternating inhalations, we were treated for five days. And our cough has passed. Still, inhalation perfectly moisturize the respiratory tract. For this purpose, you can breathe and undiluted saline.
Runny nose
When snot appears, I also inhale the baby. At the very beginning, it helps to breathe interferon diluted with saline. Physical saline, in general, is always present when preparing solutions for inhalation.
I made a solution with interferon in this way: I opened the ampoule and added 2 ml of purified water and 1 ml of saline. So the son breathed twice a day for 3 days. And if I did this procedure in time, then it prevented the further spread of the disease.
If I missed the right moment, I was already treated the same way. Simple inhalation with saline to moisturize the nozzle. And inhalation with homeopathic herbal medicine Sinupret. Before, I only gave it inside.
To prepare the solution you need to take 1 ml of Sinupret and 3 ml of saline. And so we usually inhalation up to 5 days. It also helped us very well.
Total
Here is such, so far, a small list of solutions for inhalation, which we have experienced on ourselves. And I was convinced that if we started such treatment in time, then we can prevent further development of the disease or get rid of it faster.
And what kind of medicine do you use for the nebulizer in the treatment of children?