Since childhood, I remember these instructions: You must be careful, you're a girl! This murderous argument has always annoyed me. Naturally, I do not voice it to my child. But the question of accuracy in clothes for us remains relevant.
Of course, it is difficult to demand compliance with the manners and decency of a child of 1-3 years. Here, whatever one may say, coordination leaves much to be desired, and therefore with accuracy is very difficult. But after all it would be desirable, that the child looked decently and nicely!
Once I got to the store to tears a nice golfik for a child – a soft and amazing chicken color. Bought without hesitation, despite the fact that the price was not so small. And what do you think? After his first visit to the kindergarten, impressive divorces from borscht remained on him.
It was a shame to tears, but I understand that the child is not particularly to blame. Therefore, she resolutely directed her feet to second-hand and bought clothes for the kindergarten there – although it is not a pity for the money spent.
Since then, I have decided for myself that I will grow up, then it will be more accurate, then I will buy beautiful things. And now we are almost five. We buy a few things, since a significant part is given to us by the familiar, however, from the boy. But, I think, it is possible to play in the kindergarten and play on the playground not in pink, it is possible and not in banking.
To go to the city and visit there is a beautiful gown. And it seems that the child is neatly wearing it, it does not get very dirty, but recently I strongly doubted this. A couple of days ago I was gathering a child to the country with my grandmother. She took out to smooth over the things that I would give with me and was surprised.
Many of them gave us the same friend, whose boy is older. So all things are clean. There are a couple of pants with appliqués in place of holes, but there are no spots anywhere. But the fact that we of these abandoned things were vilified, almost all were marked with spots of various origins.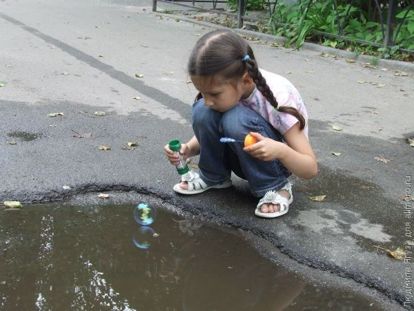 I mostly disgraced because this friend had a nephew. Therefore, she asked for all the things that she gave back as they matured. I don't feel sorry, I'll return it and thank you, but what will I say to justify these spots? Sorry we weren't as neat as you?
In general, now I thought about my position and my behavior. Maybe the problem is still not only in the child, but also in the mother? Can still poke a child's nose and demand accuracy from her? After all, not small already, almost 5 years.