We have this academic year very difficult – you need to prepare well for school. It is difficult to choose a preschool institution in a kaleidoscope of such a variety now. I approached this issue very seriously.
For a start, I did a little social research. I phoned acquaintances, friends, read articles on the preschool institutions of our city on the Internet and made certain conclusions for myself.
1. The interest of the child.
At first I tried to take into account the interests of children. I led them around the centers I selected. Showed them the rooms, games, met with teachers. Children are already adults, they can make their own choices. My kids immediately said that they like and where they want to learn.
2. Reputation institution.
When the children told me which institution they had chosen, I immediately began to investigate the reputation of this institution. I looked at the parents' reviews, talked to the teachers, checked the level of preparation. You must admit that it is very important to whom I entrust the education and training of my children. Everything suited me and I went on.
3. Personal contact with the teacher.
I personally met the teacher and tried to make contact. Teacher training and his personal qualities are very important to me. I do not recognize too gentle an approach to teaching, since further study at school implies a strict regimen and burden.
Therefore, I wanted our teacher to approach his duties with all the responsibility and rigor of training. When this desire of mine was satisfied, I turned to the fact that I introduced my children to a teacher. Very important is the fact that children find a common language with him. After all, they together will have to conquer the heights of knowledge, let it be done with pleasure, and not by coercion.
So, the preschool institution was chosen by me. It is located near our house. It has warm classes, a lot of light, a pleasant atmosphere. Number of students -12. Each teacher has time to work personally and pay special attention to him. The level of professional preparation of teachers is quite high, the requirements for training are loyal, but at the same time very organized and properly coordinated.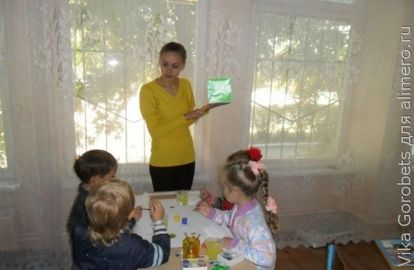 Everybody is happy – my children and me. At the end of the school year, kids will receive diplomas that have weight and with them it will be easy for children to enroll in a general education gymnasium. Now we only have to successfully unlearn this school year to gain knowledge and skills, and I have the strength and patience to survive and help my kids.
Do you prepare your children for school? Do you attend any preschool institutions or prefer self-study?