For 5 years I have been a mother of a beautiful daughter, and I do not plan to increase the number of children yet. But recently, I still managed to feel what it was like – two children.
The fact is that, due to certain circumstances, I spent all day not only with my child, but also with my girlfriend's daughter, who is also 5 years old. Of course, I had looked after other people's children before, but this was a maximum for a few hours, and here it was all day.
Fortunately, the weather for walks disposed – in the yard summer. But my daughter is very active (as opposed to a calm guest), which was the cause of my constant experiences – I was very afraid that a child could accidentally fall, stumble, hit, slip on the steps, etc.
From the option of walking with a scooter, I refused immediately – given the speed of his movement to keep track of both girls, I certainly could not. I was also afraid to go to the playground – firstly, I am terribly afraid of a swing, and secondly, I only let my daughter go on high hills.
To avoid misunderstandings, I cooked for the children two options for dinner – a traditional soup, and chops with pasta plus vegetables. My daughter is almost omnivorous, eats everything, but her daughter's daughter refused soup, but she ate the second with pleasure.
True, both responded to my offer to feed, so I had to act in two hands.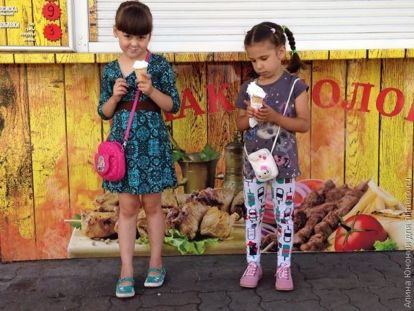 At lunch we usually have dairy products – cottage cheese or yogurt, which the daughter always eats without problems. True, this time both refused for the company, regardless of their own desires.
The alternative was found in the form of the chops left over from dinner, with which both of them got engaged with pleasure. Again, in order to avoid unexpected reactions, I specially prepared them from diet turkey meat, I really didn't want problems with stomachs.
This was for me the greatest difficulty. The fact that girls need to be laid is not discussed, we walked a lot, and both of them often sleep during the day. Sleeping in different rooms is also unrealistic, because it is impossible for me to lay both at the same time.
I put them on the same bed with a jacket, read a book, and it began – to the toilet, hot, to drink, another book, etc. All desires came from my daughter, in which, as it turned out, leaped jealousy for her plaid. I had to breed the children in rooms, distracted her with cartoons, while I put the guest to bed. Then, after an educational conversation, mine fell asleep.
Relationship between children
Perhaps 5 years is already that age, during which there are not so many conflicts. Rather, we did not have them at all. The daughter enjoyed sharing her toys, showed them, made compromises, presented a book, gave them a try on their outfits, etc.
I'm sure that we wouldn't have such an idyll a year or two ago, because earlier we could not sit down with friends because of constant tears, fights and screams of children.
I also noted for myself that my daughter is really jealous. I had a few little moments. For example, she always took me by the hand, and only then by the guest. Or asked to pour syrup on her ice cream like Masha's, even though she had never done so before.
In any case, I am sure that mothers of twins or children with a slight difference in age are incredibly hard. After all, the duties at home and in life (and often also at work) remain the same, but the responsibility is doubled. It was easier for me to keep both girls near me, otherwise I was afraid of losing one of them, being distracted by the other.
Of course, all children are different. Although, it seems to me that with strangers children behave quite differently than with their parents. My daughter probably would not have been in such an unfamiliar environment so lively and active, though, who knows.
Did you have to spend the whole day with not your child? What are your impressions?