I already wrote that relatives are not very eager to help me with the children. We resigned to the fact that except for us, no one needs babies. And that's what came of it.

Position cons

When I was on maternity leave, it seemed to me tragic to be with children all the time. Five years without clubs, shopping and gentle flirting with her husband one on one!
But the worst thing was that sometimes my roof rode — it was so hard to overcome the disharmony between my own needs and how things were going.
From a different angle

And, naturally, in order to somehow accept the situation, I had to look for positive moments in it. I considered the state of things, not from the point of view of my mental state, but from the point of view of what can be good for babies.
And, you know, a lot of interesting things have been found.
1. Children learn the world. Believe me, my know it to the fullest. They went through the process of building, repairing and finishing the apartment from the office in a construction company to 50 building materials stores. They already know how to glue wallpaper and paint the walls.
2. My daughters from infancy travel and own all kinds of rest.
3. Girls know the world of women. They are well versed in manicure, pedicure, hair removal. They know how many minutes it is necessary to sunbathe in the solarium, so as not to burn and the vertical is different from the horizontal. They look through fashion magazines during my massage and can freely talk about what is beautiful and what is not.
4. The babies help me during shopping, and the sellers are stupid about how sensible they are when choosing shoes for mom.
5. My children have practically mastered the rules of the road. And as my eldest says: I already know how to drive, only I don't reach the pedals.
6. Theater, exhibitions, city holidays, restaurants, birthdays, weddings, anniversaries – all this baby dolls are visited with us.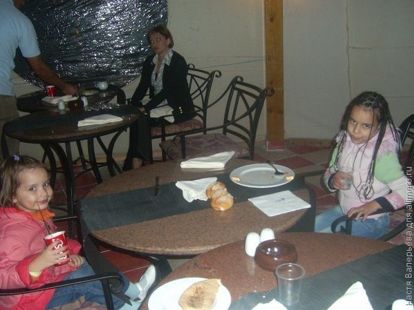 Reasoning

Probably, it is not quite childish, so much to move around, to see what the adult world reveals to them. But I hope that the concept of what it means to be a woman, how to preserve beauty and how to dress beautifully, will be written down directly on the subcortex.
The negative, of course, is that babies get very tired, just like me. They get tired when all the procedures are finished and there is nothing more to miss; it's time to go home – and tiredness comes on.
But I get tired during business meetings and salon procedures, when I have to restrain their curiosity, get distracted, answer questions and think in several directions at the same time.
I hope that the experience that they took in their childhood not through their own, as they say, guilt, will be very useful to them in life. Probably, they are still not aware of how much they know. After all, it does not pass by their attention to how to behave with people; not the way adults talk; Neither what is being discussed.
And so they would have sat themselves at my grandmother and watched TV. And it was unheard of for babies that there are toys behind the walls of the house, more interesting than the designer.