In continuation of the topic of the influence of singing on the development of speech I cannot but touch upon another important aspect. This is a preparation for the perception of the structure of the word (division into syllables).

One note – one syllable

Agree that when we talk with children, they perceive our speech holistically: with whole words, with whole sentences.
And for me, for example, it was difficult to explain to my daughter that there are some letters that make up words. And it's all the more difficult to explain that among themselves letters are combined into syllables.
Here again singing comes to the rescue. How does a baby sing?
On one note – one syllable. And if you take songs with a clear rhythm, the child begins to produce syllables, and on a subconscious level, preparations are made for reading by syllables.
Then the child will not be scared anymore that there are some incomprehensible letter combinations – syllables. Mom will remind you that he has already met with this in singing.
But this is a theory, but what we do in practice.
Practical exercises

Remember the singing lessons in the first class, when we were taught not only to sing, but also to knock on the rhythm of the song.
So I train my girls. Especially the eldest, who goes to school very soon. Sonya sings a song and, besides that, I ask you to clearly pronounce the words, for each syllable she should clap.
In fact, the task is simple, as the music itself tells you when there will be a bang. But during this task a sense of rhythm, a sense of word, and harmony of speech are formed. What later entail a beautiful literate reading.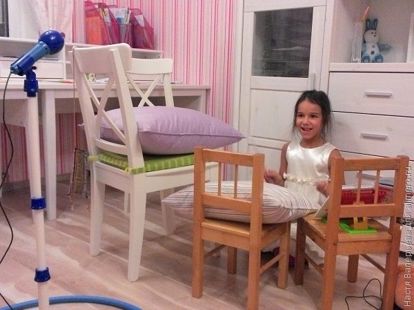 Why does it matter to me?

When Sonya reads, she often pauses in the middle of a word. But what infuriates me the most is that it does not stop at points and merges all the text into one long, long sentence.
Singing also forms the correctness of speech in terms of proper breathing. The concept of pauses in speech is formed (a dot at the end of a sentence). A panting rhythm while singing teaches the child to clearly perceive the beginning and end of words when reading.
Again, the slamming of the rhythm benefits the development of articulation. My youngest daughter, the louder claps, the more pronounced syllables and opens her mouth. I use this exercise when we sing songs from cartoons. Only songs in this case, we take not the fastest, but at a more moderate pace.
Schools of early development

Do you attend an early development school with your child? We noticed that there is always music in the schedule of classes for kids. And the matter is not only in the works, but also in those opportunities that carry singing and rhythm.
Probably, it is not for nothing that they say that music works wonders, I hope we will get a little bit more.
And what do you know about the influence of music on the development of speech?