Mosaic is one of my favorite games, as a child I loved to fold colorful patterns. Several decades have passed, and it seems that this kind of game is one of the few that has not changed its appearance.
At first glance it seems that this occupation is boring, monotonous and uninteresting. In fact, with the help of a mosaic, you can kill several birds with one stone – the development of fine motor skills (and, as a result, the development of coherent speech), creative abilities, creative and logical thinking, learn colors, numbers and letters.
Fortunately, the choice of mosaic is now huge – I saw the sale, which included from 30 to 200 elements! My daughter has 2 similar sets – with square and round bases.
Remember that small children should play only under the supervision of adults, the abundance of small parts is fraught with bad consequences. Constantly remind your child that it is extremely dangerous to take small objects in their mouths, stuff them in their nose and ears.
Mathematics and Grammar
Letters and numbers can not only write, but also lay out mosaic. Of course, it is easier to take a pencil of a certain color and draw it, but if you do it using fine details, which also need to be sorted by color, the occupation becomes more difficult and more interesting.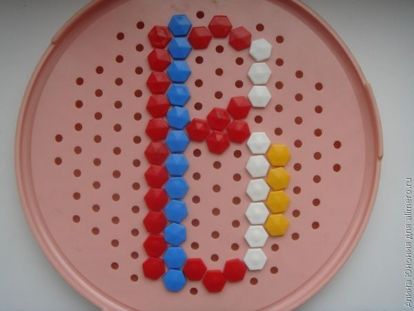 It is only at first glance that it seems that only geometric figures and abstractions can be made from mosaic. In fact, the field for fantasy is more than huge. Look, what a wonderful cockerel: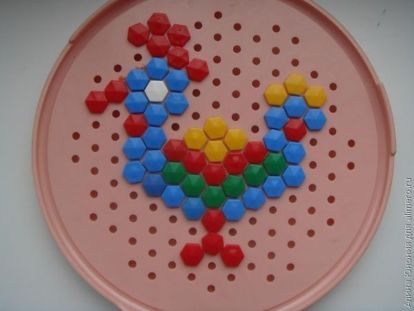 How do you like an apple?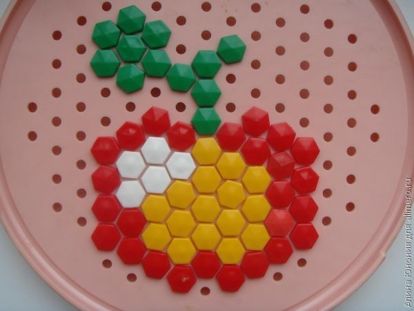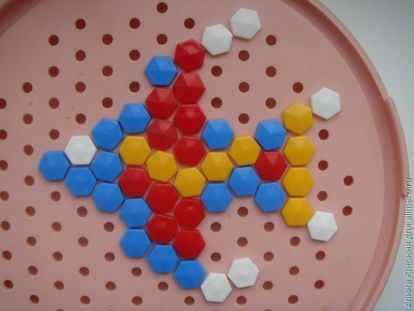 More difficult level – spider: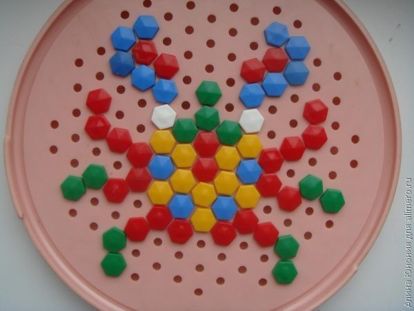 I hope my topic will bring newness to your games with the child. Give the child a task, together invent new shapes, fold patterns for speed. Successes to you in this fascinating creativity!