Every child knows the world through the game. It is easier and more interesting for him. The essence of the technique of the games of Maria Montessori is to create a special environment for children in which they will feel on an equal footing with adults.
The essence of the technique
In our city there are several circles in which classes are held on this system. Of course, it is very problematic and expensive to buy all the necessary furniture and games, but to try to equip a room so that the child does not feel discomfort is quite real.
The main focus of this method is to give the child how many more tasks he can do on his own, without the help of adults.
What to do to achieve the result?
Therefore, in order to get a positive result from classes, I took a number of measures:
1) In the room where we play with the child, all his toys are at the same height from which they can be obtained independently.
2) If classes need to be performed while sitting, then we do it at the children's table.
3) All the items that we need to play always lie in place, this teaches the son to order.
4) I tried not to tell and explain everything in detail to the child, because he himself must understand and draw conclusions.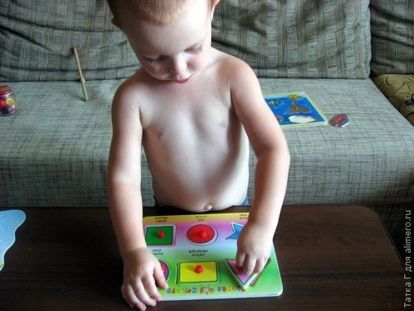 5) The most important thing for me was to be patient. You do not need to help the child immediately after something has happened. It is necessary to observe from the side and wait until he finds the way out.
There are a lot of games according to this system. Choose you, or rather the child, according to the interests and age. Now I want to talk about those who have played or are playing now.
I came up with this game myself, but then, as it turned out, it is also from this technique. My son from early childhood liked to put clothespins in baskets, pans, bowls. Then he tried to open them with his fingers. And then we had a garland, from which he tore off a large sun, and so we began to fix the rays with the help of pegs.
2) Go through the cereals.
This game can also be called a Cinderella game. I took five jars of baby food, and in each of them poured various cereals (beans, peas, pasta, rice, small dogrose). Then she mixed everything together and asked to arrange in jars. You can simply scatter the cereal on the floor and ask for a broom with a spatula to collect.
In this game, we used different tissues to develop a tactile sensation in a child. It can be silk, cotton, wool and leather. I gave each piece of cloth to touch and carefully and study it. And then she asked for feelings to find a pair with eyes closed from an impermeable bag.
For this game you will need buttons of various sizes, shapes and colors. And then just ask to sort out everything and choose in accordance with the task that you invent yourself. For example, sort by color, size or shape.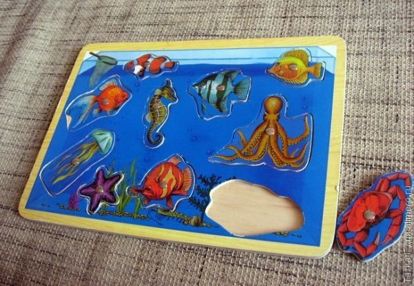 It was our very first game by this technique. In one of the frames it was necessary to place the dogs in size, the second – our favorite cars (already in 1.2 years there was a terrible interest), the third – geometric shapes. In fact, there are a lot of options in the store now.
There are still a lot of games, and you don't have to pay crazy money for materials. The technique is very simple, and it well teaches the child to independence. And the most important thing is that these games bring pleasure not only to us (parents), but also the children to be happy and satisfied with their independence and time spent with their parents.