How many times have heard outrage about the monster dolls! Like, how can a child be allowed to play with dead people or in general something unimaginably scary. But for some reason I do not share the general indignation about this.
Not so scary monster, as we see it
The main argument I heard from the indignant side is the image of the dead! What does he teach children? What brings up in them? As for me, such dolls do not teach him anything.
The problem is that we, adults, perceive these dolls from the height of their own life experience. For us, this is an image filled with very specific associations, ideas and emotions. But the child is still not aware of the processes of the stopping of life and decomposition.
For him, this is an ordinary doll, but with its external features. At least for my child. The wave of popularity of the monster dolls is quite explicable – the animated series was released, which attracted children. Accordingly, they want to have such heroes and play with them.
As with the ninja turtles, Pepa piggy and fixes. Simply, there are heroes and toys that adults like, and there are those that they do not like. After all, you can just rebel about the educational role of the same turtles, Batman and other militant heroes.
But they do not perturb anyone, because they look more aesthetic.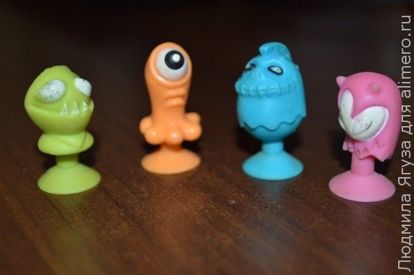 Aesthetics
Another argument that is raised less often is the aesthetic upbringing of the child. They say the child receives the false ideals of beauty. I always want to ask, and what ideals of beauty does Barbie cultivate with her disproportionate body? Or remember the dolls of our childhood – is this the ideal of beauty?
As far as I remember, I was more fascinated not by the doll itself, as was her dress and slippers. On account of the upbringing of taste, I remembered how, when I was a teenager, I was insane in a fit of joy when my parents gave me leggings! These are all in large bright red colors and green leaves. I took them with pride for about a year and that's it.
Tights did not distort my taste in the future. But at that time they were very, as they say, in the subject. Every age needs its own toys, and the desire to have them is better to satisfy. Especially when it helps to be a trendy child.
At one time, her daughter in the garden in the fashion were small stickies-monsters. I had to go to the store where they were distributed for the number of purchases. I will not say that playing with them somehow influenced the psyche of my child, but my daughter was on a wave with everyone. The wave came down, and she forgot about the monsters completely.
Therefore, I do not see anything reprehensible in monster dolls. I don't buy my daughter for the simple reason that she doesn't watch these cartoons and it doesn't matter to her to have such a doll.
We have one, which either gave someone, or at McDonald's at a birthday party. She plays with her the same way as with other Barbie dolls. And for her psyche, I can not worry.
And how do you feel about such dolls?