I risk getting another batch of stones to my address, but I can't help but share my observations and thoughts about moms at the playgrounds. As a rule, everyone behaves more or less the same way, releasing the child from himself to 5–8 meters and following his every step. She herself did so at first.
But almost everywhere there are a few people who simply amaze me with their pedagogical approach. And all would be nothing, I, in fact, do not care how they raise their children, as long as it does not concern us.
Pleasure Authoritarianism
It is sad sometimes to watch when Mom arrives at the site, grabs the child from the stroller – and let's carry it around the entire playground. I let her down a couple of times, twisted on the carousel, shook her horse, landed in the sandbox – and all this completely without looking at the child herself.
Some of the children traditionally throw a tantrum, trying to resist. And someone is inert, like a rag doll, hanging on his mother, allowing her to decide where, when, what, how and with how much he should play. Again, I personally care, but as long as our trajectories do not intersect.
Let's say we sat on a swing, barely waiting for our turn. A minute later, such a mom on schedule, too, here are scheduled skiing. She waited for diplomatic 2-3 minutes and let me hint that it's time to take your child off the swing, because everyone wants to ride.
I can understand this, but my child waited too long for his turn to get all the emotions in full in a couple of minutes. If now to pull it off from a swing, then indignations and shouts are quite predictable. What was approximately what was said to my mother, in the disturbance of the nostrils blowing in my address. In such an environment, I had to talk to the child, to interest other things on the playground and still get off the swing.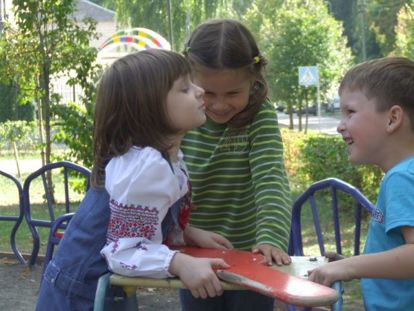 Careless camp
I take myself to that camp of moms who let the child go for a walk on their own, watching his safety from afar. The distance is the longer, the older the child becomes. This gives him the opportunity to communicate with others and to find solutions in different situations.
True, I often hear: Horror, and where is the mother, where is she looking? Say, my daughter thought up some plot of the game for herself and in accordance with it began to pour sand onto the bottom of the hill. Aunt, whose children slid down the slide, made a remark to her, and after a while she began to pour again.
Of course, I immediately started talking about my moral character, but I did not enter into a conflict. Not because I was ashamed to admit that this is my child. She did not deal with such terrible things – she didn't stick at children. And the sand pants can be easily obtrusive or, as a last resort, washed.
But in such a situation, the daughter got some kind of self-communication skill with unfamiliar adults: she felt herself in a conflict situation and looked for options to react to her. But then, when she approached me, we had a good example to find out what is good and what is bad.
Surely not everyone will support me, but where is the happy medium in such situations?