I once took my daughter from kindergarten. Everything is as usual, the standard phrases: How is it in the garden ?, What did they eat ?, Nobody offended children ?. My daughter gave the same standard answers. And suddenly I wanted to stop, tired of this routine. I kissed and hugged my daughter tightly. For the day I really missed her!
Every day I have the same thing: endless homework, this eternally ungrateful female work that is not noticeable to anyone! You cook, you clean, you try to keep the house clean and tidy … as a result, you get really tired and fall down. Familiar? I know. I'm not the only one! And before that, my husband said to me: You're sitting at home, still doing nothing! Am I doing nothing ?! Oh him!
Time flies terribly fast. I'm not an owl, and not a morning person. I'm a bird abnormal. I go to bed late, get up early and do not sleep during the day. And though I get up early, I don't have enough time to redo everything! The day passed in cares, it's time for the daughter to go to the kindergarten. All tortured, with bruises under her eyes. Mother, what are you doing? (I think to myself).
And my dear child … He is so carefree, he does not understand anything. Just answer my questions.
– My dear, I missed you so much! How much I love you!
– Why then do you take me to the garden? I want to be with you!
– Kitty, I work at home. And I will not be able to give you full attention, and we have no children on the street, with whom you should play.
– Mom, you are my soul!
"Where did you hear that expression?"
– Nowhere. This I came up with myself! I love you too!
I melted. Fair. The usual phrase I love you is pleasant, if it sounds from the mouth of a child. But when a beloved child says that I am his soul, it is somehow doubly pleasant.
Once, being fascinated by esotericism, I read that a child has a spirit and soul, like any other person. The spirit is the father, and the soul is the mother. Does my child know this? You can talk about esoterics for a very long time, because this is a science about everything. About our life, the laws of life.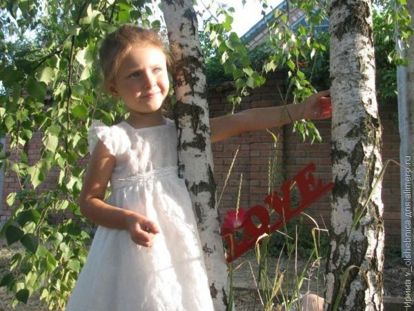 It's so nice if they love to the moon …
This is our favorite poem. Once I found him in the internet, and since then I really loved her. We go to the garden with him almost every morning. With him we go back. It seems to me that this is good when I want to speak in verse.
What does it mean to be a soul for your child? Is that a super mom? Or the sun, whose rays warm that little baby soul, its warm and gentle inner world? You know, my mom and I always lacked something in communication. There was some understatement, inferiority.
I try to talk with my daughter for a long time. About all and about everything. We even talk on adult topics. For example, about love, relationships between people, education, care for babies. And sometimes she thinks not as a child, but as my age mate.
Yes, I want to be a soul, the closest and dearest person to my daughter! She is growing and will soon become an adult, I do not have time to blink an eye. And I want her to run to me with her feelings, problems and thoughts, and not to her friends or acquaintances.
What do you think it means to be a soul for your child? To be a mom-soul? To be a mom dream?