Meetings, dates, registry office, hospital. And then cares, efforts … Not all young fathers are ready for this. Unfortunately, families collapse, divorce, and children suffer from it. And then we hear from the child: Mom, where is my dad?
No one, not a single family, is immune from a divorce. Even the family where the idyll reigns can be frustrated. Today, I will tell you the story of my sister, who, unfortunately, was forced to answer her son's question about his dad.
The story of one divorce
Her son is 6 years old. Last year, she and her husband divorced, and the child remained to live with her. The decision was not easy for both of them, but living together did not bring them joy, so they quietly gave everyone another chance to start everything from the beginning.
Sister thought she would be hard, but she was wrong. Divorce did not affect her, but on the child. Like most boys, he was tied to his father. Together they repaired the car, played table hockey. Let it be done not often, but the child remembered only these good moments.
He often asked about his father, was nervous if he had not seen him for a long time. She felt guilty about the child, and each time asked herself the question, maybe you should have suffered?
They only told the son that they would live separately, without explaining anything. It seemed to his sister that he was still small to listen to adult arguments. However, as time went on, in kindergarten, he eagerly looked into the eyes of his fathers, who came for the children, became irritable.
The teacher said that the child began to fight, which had never happened before. But next year the school and a whole life ahead, it was necessary to do something.
At first, my sister talked to her ex-husband and realized that the decision on divorce was correct, he started another life and, of course, there was a minimum for his son. She herself did not behave correctly. At first she called and demanded to meet her son, reproached, and dictated the conditions, but the situation only worsened. It was bad for everyone, because it is not possible to love by order.
I had to start all over again.
Your dad didn't throw you!
She started with the fact that once she planted her son beside her and talked to him like an adult. I explained that my father is kind and caring, that despite the fact that he does not live with them, he will always remember and care about him, now you just need to learn how to live independently.
The sister told her son that now he is her assistant and they have a rich and interesting life ahead of them. She told him that in this situation no one is to blame and adults often disagree, but such is life. She chose examples from the life of friends, to show that situations in life are different and this does not mean that you should be sad. And he, for the first time in the last six months, fell asleep calm.
Over time, sister and son learned to live independently. Former husband once in two or three weeks took away the boy for the weekend, sometimes he called. Sonnya learned to perceive him at a distance, talked to him on the phone and did not worry if his father could not take him for a walk. Now he understood for sure that even after moving to another part of the city, his father did not stop loving and taking care of him.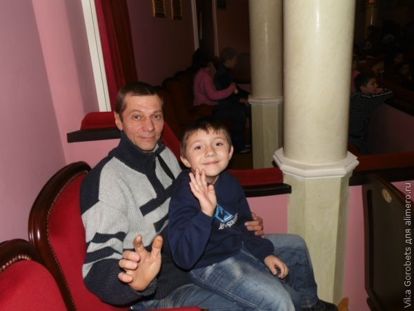 This situation is ideal for such a turn of events. When parents are divorced, children, most often, are not taken into account. My nephew was lucky, his father did not leave his son in a difficult situation, but such cases are rare. It is a pity that children suffer from parents' mistakes.
Maybe you also know examples of good fathers?