One fine Friday morning I sent my daughter to kindergarten. All week we went without admissions and delays. Several days in a row, my mother took my daughter to her so that I could work. After all, I do not always have time because of the younger son. And on another Friday I say to Veronika: Today, after the kindergarten, your grandmother will come after you, and you will go to her.
In response, I heard: Mom, am I disturbing you ?. My tears came out. My daughter looked at my eyes so shrillly and in an adult way. For a moment, it seemed to me that she saw through me. At first I did not know what to say to her. And then she asked why she decided that.
My daughter said that her grandmother told her so. But, I thought, my mother could not answer her that way. Yes, I ask her to pay attention to her daughter while I work on the housework. In the summer, there is a lot of work in a private house, and I cannot give proper attention to the baby. But to say so rudely it would not have happened.
Yes, and how they rest when I am not! Her mom leads her to a children's puppet theater, where my baby really likes. They go to cafes and pizzerias, which we do not allow ourselves and eat everything that Veronika's heart desires. And also a park, attractions and entertainment!
Mom, I want to see you!
It turns out that such a conclusion was made by the daughter herself! I sometimes look at her, and I think when she managed to grow up! Recently held her tiny in her arms, and now she is so adult! Time flies quickly, and not only other people's children grow quickly, but also their own!
– Well, why did you decide that? Of course, you do not bother me, just mom does not have time to work to earn money and buy you something.
– Mom, and I want to you! I want to see how you will work. I will help you!
Here she is, my daughter. I stood at the gate of the kindergarten and kissed her. She said that she is the most wonderful girl on the planet, the most beautiful, kind and gentle. But we agreed with my grandmother, my plans were lined up, and I did not want to retreat. But I could not resist and said that I would take her from the kindergarten.
Whatever I did, I scrolled this phrase all day in my head. Why did my child draw such conclusions? And so he decided, without any help? Maybe I pay her a little attention? But I never said that it bothers me …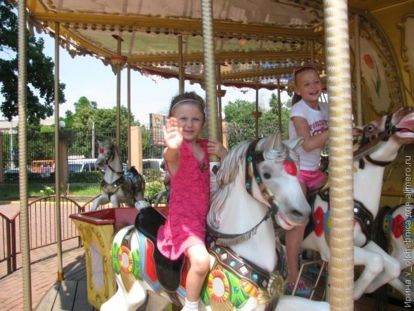 Surprisingly, I managed to do everything I planned at home. In the evening, took her bunny from the garden. Usually we rush home immediately. I always have something on the stove boiling or cleaning is not finished. And this time we played for a long time in the playground, then in the sandbox. We bought ice cream and sat on the bench, enjoying its taste, and chatting about nothing.
I decided to give a lot of attention to both kids, so that they wondered if they bother me or distract me. Have to work at night. But even more inspiration.
We decided to go to the grandmother in three. And only when the daughter herself wants it. Every weekend I try to make it bright. We either play at home or go to the park, where kids are interested in climbing in a maze, jumping on a trampoline and riding on a swing.
More recently, they made a photo session where a professional photographer was shooting. I promise to share beautiful photos.
And how do you pay attention to your children? Maybe you have family traditions or original ideas? I am interested in your opinion, my dear!