Each child lives in his own way, convenient for him. I believe that it should be as convenient as possible not only for the baby, but also for his parents, because they also have their own affairs and needs.
My daughter recently turned 4 years old. As at a younger age, she has a certain daily routine, which she adheres to. True, he shifted slightly due to hot weather (later evening walks), but in general its main components are the same.
My baby usually goes to bed late, like the rest of our family – we almost never fall asleep before 22. Now the kindergarten is closed, so we can afford to sleep until 9 in the morning, but with the onset of autumn, there will be a retreat no later than 23, : 45.
The daughter of my girlfriend, regardless of the season, falls to 20-21. Perhaps for someone this option is acceptable, but I am not one of those. Moreover, the husband often comes home from work late, and we love to walk for a long time, even in winter.
At the age of 4, many children go without daytime sleep, which does not affect their behavior (younger ones usually become moody by evening).
Usually the daughter sleeps during the day. Of course, there are single exceptions, but in most cases she has at least 2 hours of sleep.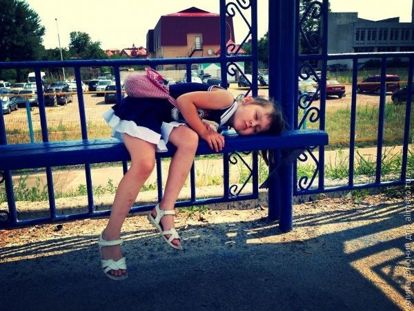 In kindergarten, children who do not want to sleep are not allowed to play and behave noisily. They can only be silent in bed and do not interfere with the rest of the sleep.
Regardless of the weather (if, of course, not the storm), we have two walks – the morning (while visiting the kindergarten, the daughter walks there) and the evening. Their duration depends on the weather conditions, a total of 3 to 6 hours is obtained.
We have 4 meals – breakfast, lunch, afternoon tea, dinner. She has a rather dense breakfast: milk porridge, lazy dumplings or even a little meat with a side dish.
For lunch, usually soup, afternoon tea – cottage cheese or yogurt, and for dinner – the same as ours (my husband and I love to eat tight, and after a long walk, our daughter is often hungry).
Although theoretically I am against snacking, but we have them. True, only with the promise to eat the main course later. In most cases, this is a fruit, but there are also sweets with gingerbread, which is to hide.
So, the approximate mode of my four-year-old daughter looks like this:
9:00 – rise
10:00 – breakfast
11:00 – 13:30 – walk
14:00 – lunch
14:30 – 17:30 – sleep
17:45 – afternoon tea
18:00 – 21:00 – walk
22:00 – dinner
From autumn the rise will be an hour earlier and the time from 8:30 to 13:00 will be occupied by the kindergarten. In the evening, part of the walk will be occupied by classes in the gymnastics school (18:00 – 19:00).