Celebrate the birthday of your child – it is absolutely necessary. But more recently, I realized that children were the last thing interested in refined dishes and the number of invited adults. The main thing is to have the opportunity to go crazy, play, and if you still organize mobile contests with prizes, then there will be no limit to children's delight.
For the first time I decided to hold contests for children on the fifth anniversary of my eldest daughter. Then we invited a clown for the sixth anniversary, but we realized that we ourselves can organize a holiday no worse than with a guest artist.
We usually set the table in the kitchen so that the children can have fun. We also buy small prizes and hold a couple of contests. Here are a few of them.
My niece is dancing in the theater and she has a lot of stage costumes. On one of the holidays, I asked to bring a few pieces so that the girls could change their clothes. But then I had to face one little problem. My niece basically portrayed some unfortunate heroines and gypsies, and the costumes were appropriate.
I still laugh at how one girl looked with horror at all this theatrical magnificence and said: I will not wear it. Since the competition was announced, I had to urgently shake out my own closet, and here the girls squealed and squealed with delight. And I prayed to myself that they would not pour any compote onto my dress.
We also made balloons, half filled with helium, and half just inflated. Then all the balls were mixed so that it was not noticeable which one of them would go where. The children stood in a circle. The leader called the child's name and let the ball go, and the kid had to catch him before the ball flies up or falls to the floor. Who caught the ball – received a prize.
Potato and Spoon
Children are divided into two teams. A table is set at one end of the room, there are 2 cups of washed potatoes on it. At the other end of the room is the same table, but there are two empty cups on it. The task of playing with a spoon to bring the potato to the empty cup of his team, then go back and pass the spoon baton in the form of a spoon to the next player. Wins the team that makes it faster.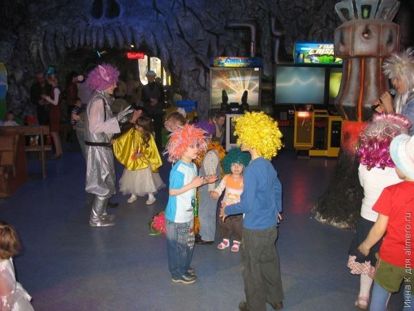 When the children run over, you can offer them a calmer competition. All are seated, and one child comes out, who with the help of movements must show some word. The topic is discussed in advance, otherwise it will be difficult to guess the encrypted word. For example, you can make words on the topic of work. Whoever first guesses becomes the leader.
Sparrows and crows
This competition is held to the delight of the neighbors below. A leader is chosen who will speak alternately: sparrows or crows. If he says crows, you need to jump somewhere higher (on a chair or sofa), and if a sparrow sounds, you need to lie down on the floor. You can confuse children, stretching the words: In-ro -..y. .

findings
From my own experience I can say that there are not too many contests to prepare, the main thing is to provoke the children and then they will have fun on their own. And you will have the opportunity to quietly chat with the guests moms in the kitchen;)