I think I'm not mistaken if I say that the food in kindergartens has not changed at all over the past decades. In the menu of my son all the same dishes that I have 25 years ago. I can not say for sure whether it is good or bad. It seems like a lot of new products have become more accessible, it would be possible to diversify the diet. On the other hand, the usual traditional food, proven over the years.
Maybe in some kindergartens, most likely private or metropolitan, they go to meet their parents and change the menu for each particular child in some way, but we definitely don't. Do you like barley porridge or do not like it, whether you like carrots in soup or not, nobody cares. Eat what they give, as they say.
Well, if the teachers in the garden are not forced to force something to eat. Once I came for my son in the kindergarten, I was told that he refused to eat sausage, although he was persuaded (I suspect that they even threatened a little). He tried to push her into himself, but he spat out anyway. We do not eat sausage ourselves at home, so I asked her not to give or force my child in the kindergarten to eat if he does not want.
The menu in our garden just like from the Soviet book on parenting. Breakfast is always porridge. Buckwheat, semolina, oatmeal, barley and porridge Friendship. I have nothing at all against cereals, I try to cook at home too, especially on weekends. But more often I offer it to myself and my husband so that my son can rest from cereals at least a couple of days a week.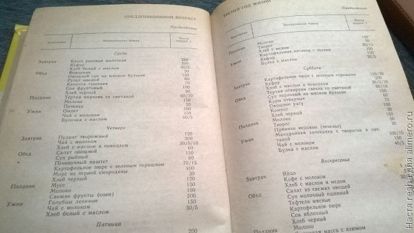 Between breakfast and lunch about 10 o'clock the kids are given some snack: apple, banana, fruit puree, juice.
Lunch – always soup (soup, pickle, chicken, cabbage soup, barley, fish) and second (meat with some side dishes). We do not eat meat, at home I do not cook it, but I can not prohibit it to have a child. He has a school ahead that is not very friendly to those who are not used to eating like everyone else. So I decided, let alone while eating meat, and then he decides, at a conscious age. Moreover, he will have an example of his parents.
Dinner, or rather afternoon snack, in our kindergarten at half past three days, immediately after bedtime. Here there is a variety – casseroles, meatballs with a side dish, vegetable salads, steamed vegetables. Every morning I watch the menu, which is hung out in the group, in order to find out how hungry my child will come from the kindergarten. After all, I know that he loves and that he will flatly refuse.
I read a lot of books about nutrition, so that the usual menu does not seem to me so very correct. Rather, I would call healthy a separate diet, but we probably will never get to it.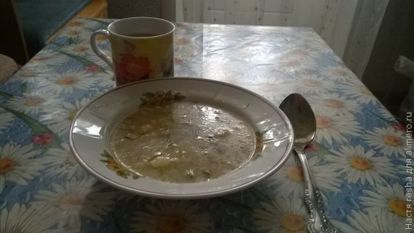 Nevertheless, our country has its own gastronomic habits, which are ineradicable. It is good that in the kindergarten they do not give any hazards like chips and soda, which are now available in the school canteen even to first-graders, yesterday's kindergarteners.