Before, I often smiled, looking at the little ones, who, claiming their rights to their mom, informed them in a belligerent tone: This is not your mother! Standing in front of the mother, stretching their arms, with a spatula at the ready, they protected her from all visible and fictional encroachments from the side.
Then I could not even think that after some time, my two daughters would declare to each other their rights to me.
Mom for two

When Sanya was born, Sonya still did not even know how to speak. Sonia did not have any problems with jealousy, she did not try to attract my attention. My daughter only dreamed of playing with her little sister, for a long time not understanding why she did not reciprocate her.
But the baby was growing up extremely mother's girl. She had a strong-willed, warlike, mischievous nature and at the same time affectionate towards me.
Once I scolded Sanka with the words: Oh! Love you mom. Probably, then the baby and it became convenient, so that the mother was constantly in sight, you can check whether she likes at any second or not.
Why should she?

No matter how hard I tried, more attention still got to the second child. Then you need to bring it, then pull the handle to speed up the step, then feed it out of a spoon so that you can eat at least something.
And at this time, Sonya began to comment on the situation: Mom, why are you just feeding her? I also want to handle! And throw me like Sanya!
I, as in the books advise, talked with my daughter on an equal footing. She explained why I am doing these passes with the baby, but to no avail. She realized perfectly my words. But I could not understand why, unlike Sani, she should eat with a spoon and fork on her own, walk with her legs and not roar over trifles.
Sonya began to closely monitor all the actions that are done with Sanya, and carefully compare with what they are doing to her.
How to win mom

I suppose, before Sonia, the question arose: How to win a mother? The answer came quickly.
She repeated the younger words, gestures, whims, postures, tried to squeeze a tear and scream. It looked unconvincing, unnatural. But, the child performed everything according to the model, and, accordingly, should have received the same result, a joint action with the mother.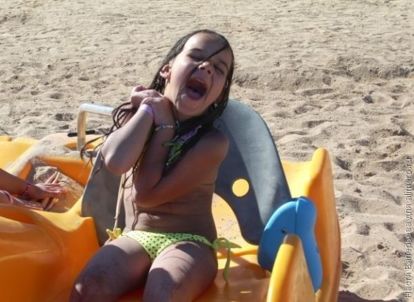 The behavior of the eldest daughter put me in a dead end. What to do?
If to deprive Sanya, a two-year-old girl, of help, how will she develop? And scolding a three-year-old is dangerous, you can only aggravate the situation.
Know what they want

The essence of the problem was that when Sonya and I were only together in sports, on the court, in the country, she did not perceive this as attention and a manifestation of love. As children say: It does not count! It is important that I give her most of the time when the girls are together.
Interestingly, they got along well in my absence. Separately in the room, at the grandmother, at the father, they thought out to themselves games and revel in dialogue.
But it was enough for me to appear on the threshold of the room, the air was thick.
Weasel and tears, words and lamentations, stomping and even pushing aside – all means were used to win the mother.
For someone it is love, for me it became a problem.