My daughter is a very sociable girl. From birth, she sees many people around her and eagerly makes contact with them. As soon as she learned to make proposals, she began to report the latest family news to all the neighbors.
We are looking for friends
It so happened that now my daughter does not go to kindergarten. There are several reasons for this: moving, there is no place in the group. But the main problem is that the baby's immunity cannot cope with Sadikovskiy loads.
In the new place we do not have enough friends. Helen with nostalgia remembers his playmates. Probably, her age has come when her mother ceases to be the center of the universe.
The house we moved to stands near the central city park. We walk there every day. Going out on the street, baby dreams: Let's get acquainted there with some girl !.
But we are not very good friends with the boys. My daughter is afraid that the boy might fall in love with her and will have to marry him. Then it's necessary to move both from parents and have a child. But how then to play with toys? And Tepa's favorite plush doggie will be very bored.
If we just walk along the paths of the park, then she constantly repeats that she wants to meet and play with someone.
Usually, the acquaintance goes like this: after some hesitation, the daughter approaches the girl she likes and offers to meet. Sometimes she runs up to failure. The face becomes so sad and confused that it hurts to look. She cannot understand why she was refused and what she is guilty of. But I am very glad that my daughter is quick and does not dwell on failures.
Worse, if the weather is bad and the kids are walking a little. Then the walk turns into a test for nerves. Word games and conversations about the structure of the world do not help.
We taught our daughter to speak compliments when meeting. Now the scheme of the first meeting looks like this:
– Hello. My name is Lena, and how are you?
– What is your beautiful coat (hat, scarf, hairstyle)!
– Let's be friends.
Usually she is not denied. Everyone wants to listen to how beautiful and good they are. After a successful dating kids play. Sometimes they are interested together, sometimes not very. It all depends on the mood, invented the game, the age of girlfriends. My daughter loves kids older than herself, you can play role-playing games with them.
Friendship continues until it is time to go home. Children refuse, are outraged, but still have to say goodbye. On this familiarity usually ends, and we no longer see the new girlfriend.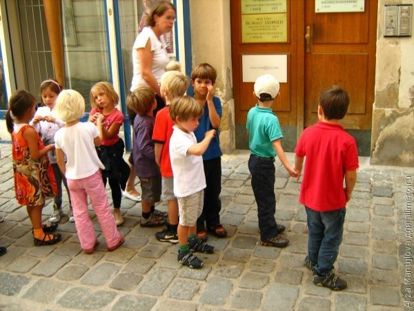 The main disadvantage of walking in the park is the turnover of personnel. Moms from different yards come here occasionally. They make a circle of honor in playgrounds and numerous alleys. And we do not often meet friends we know.
I always thought that such a strong thirst for communication appears in children in adolescence. I don't know if love for new acquaintances will pass away when my daughter has a girlfriend. Or is it a thirst for new experiences?