My daughter madly loves to draw and perform various tasks on paper. Therefore, the book with drawings was for her a pleasant gift. Recommended age category – from four to six years. Well, that is necessary – my baby said and began to examine the book.
There are many tasks for every taste. What I liked – you need not just to draw, but also to connect logical thinking to the task. For example, on one of the pages you need not just to color the animals, but only those that can be heard.
Many of the exercises supplement the intellectual baggage of the child – it was from this artist that the daughter learned about the growth rings on the cut of the tree trunk and their meaning. There are also images of constellations, many labyrinths, tasks for connecting dots.
In addition to the book for a job just a pen or pencil. Some pictures are more interesting to draw with colored pencils or felt-tip pens.
Book has convenient format and a soft cover, making it easy to fit into a medium-sized bag. Despite the fact that the sheets are taped and not connected with a spiral, it is quite convenient to use the book.
Pages do not close by themselves, no need to make an effort to keep the coloring with the open state. Fine paper quality, thanks to which even the drawings drawn with felt-tip pens are not printed on the adjacent pages.
Completed book in red and blue tones. Despite the minimum of colors, it does not look faded. Besides, I immediately noticed that the tasks were drawn in a very interesting manner – as if someone had depicted a real pencil just an hour ago.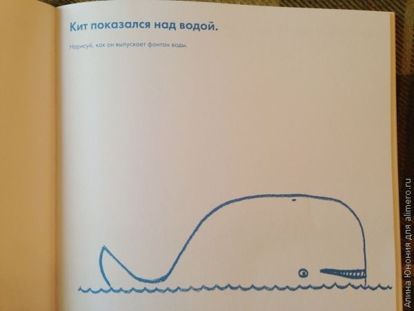 Of course, one should not expect that it is enough to get a book from the parents, and everything else is the business of the child. Without the participation of adults, she will simply lie idle, because many of the tasks a child can not perform by herself. For example, draw the contents of the human body. Yes, and read the accompanying text on each page, too, need to be able to.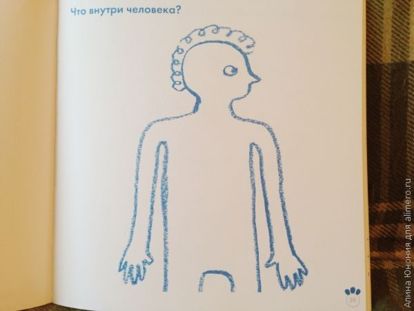 Such a drawing will be a great helper, which will replace the album, notebook and coloring. With it, you can entertain a child on the road, transport, queues, cafes and guests. All jobs are diverse, and, believe me, a lot – as much 63 pages!
At first, the daughter decided to do the tasks selectively, but then it turned out that she liked almost all the ideas. Of course, there are some quite simple ones, but there are those over which you need to sit for more than one minute (for example, drawing by numbers).
Cost of Drawing for little dreamers is a rather big one – 300r (about 100 UAH), but for this money you will receive an excellent quality publication with a lot of ideas that can be implemented on paper and without the help of a book.