Plasticine is an amazing material. With it, you can not only develop the fine motor skills of the baby's hands, but also teach him to fantasize and realize his fantasies. And for modeling from plasticine, practically nothing is needed to acquire, and the classes themselves are fun, the child willingly plays with the material and makes various figures out of it.
In order to teach your child to sculpt from clay, you must purchase a minimum of items:
– plasticine
– board for modeling
– stack or plastic knife for cutting
To diversify classes, you can prepare and other available materials. They are not required, but it will be more fun to sculpt with them. It:
– toothpicks (for fastening parts)
– matches (to create holes on the product, for example, eyes or mouth)
– rolling pin
– molds
– various cereals, beans and pasta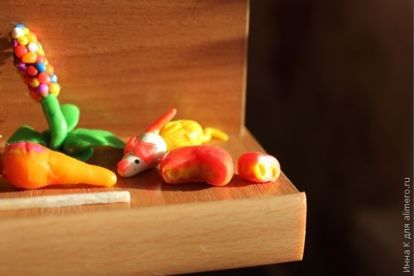 Before you begin to sculpt something concrete with the child, show him the basic techniques. First, the baby must learn to make three elements – these are balls, sausages and flat cakes.
Show the kid a box of clay. It is bright and certainly attract attention. You can call the primary colors: it is red, and here it is blue, like the sky, and it is black, like a cloud. We give the child to choose a piece. Cut off from it a little bit and start kneading the clay in the palm. We tell the child that it is necessary to warm the piece in his hands, then to make him something interesting.
Now you can begin to manufacture various forms. At one time, my daughter loved to pinch small pieces off the bar and stick them somewhere. I think this is a very useful exercise! We also show how to roll a ball and a sausage from a piece and how to flatten them with a finger.
Safety and cleanliness
Many mothers do not give children plasticine, because he immediately finds himself in the mouth. I think this is still not a reason to deprive the child of joy to create something with their own hands. You just need to keep track of the baby and do not let him eat clay or shove it where it is not necessary. And of course, do not leave a very young child alone with pieces of material.
Many people worry about the cleanliness of the house during class. Indeed, children can scatter material throughout the apartment, and then step on it. This can be avoided. We do this – always sculpt at the children's desktop, if I see that there is no interest, then I remove all the accessories for modeling in the box. Pens, of course, get dirty, but you can wash them.

What can sculpt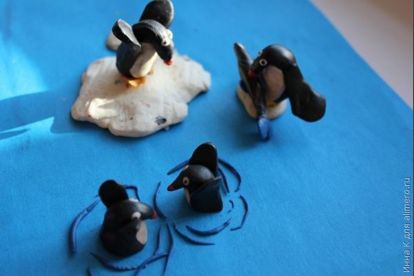 As mentioned above, plasticine is a versatile material from which you can make anything. When the child learns the basic techniques, from the prepared parts you can make little men, little animals and pieces of furniture. I do not sculpt myself very nicely, but the eldest daughter has already made a real zoo, where penguins, chickens, snails, mice, etc. live in it.
We also love to use scrap materials. Daughters especially like horns, and she learned to make a hedgehog. We stick macaroni into a plasticine ball, it turns out a hedgehog with needles. Also, cheers we go applications. For example, we play in the dining room. We take a sheet of paper, first we stick pieces of plasticine, these are plates. And on them we stick dry cereals, pasta, beans, peas, etc.
Do not worry if the baby something is not working. The main thing is that he does not lose interest in the very process of creativity and then very soon your child will be able to create his own amazing world.
Does your baby like to sculpt from plasticine?