Daughter has long known letters. She has a lot of books donated by relatives. But she is not in a hurry to read them. And it was not possible to persuade her to this feat by any tricks. But just yesterday a miracle happened – the child voluntarily sat down and read a voluminous tale.
Conditions for reading
In general, her books were to some extent interested in her. Even when I fed her with a spoon, the alphabet was always near. Under the reading of the poems and looking at the pictures ate much more fun. The collection of Agnes Barto, we almost learned by heart, rereading on the 25th circle.
In the kindergarten, she is constantly praised for grasping rhymes well, reading everything they ask. But in the kindergarten, the requirements are averaged – there are children in the group who still do not even read syllables.
The big tragedy is that the child does not want to read books himself, I do not see. Before my primary school, my parents tried to persuade my sister to sit down at the book. Then surrendered. And at age 13, she fell into the hands of Angelica … As grandma whispered!
Therefore, I calmly reacted to the fact that my child takes a little book with memorized verses and pretends that she reads well and quickly. Often, at her request, the 250 thousandth times she re-read her Fox with a rolling-pin with an expression in their faces.
But our dad is terribly unnerving. Every time a child brought him that ill-fated chanterelle for reading, he would give a tirade. This is a book for the little ones! At six years old, I read such big books! By the way, he brought one of them from his grandmother: Indian folk tales.
It is impossible to say that I was completely folded. Still, the child next year to school and somehow need to be accustomed to books. At home, I have long reread everything. New usually read on the phone or from a computer. But for a child, if mom buried in the monitor, it means it works.
So I went to my friend's place and took a huge book, and from time to time in the evenings I started reading on the sofa. By the way, I highly recommend everyone called Shantaram. The advantage of such a reading is that the daughter can see what exactly the mother reads – the text with small letters and no pictures!
I myself remember how sad it was for me to read the small print in books. Always looked in advance, when the picture will appear there. There was complete confidence that books without pictures were terribly uninteresting. I see that my daughter has about the same attitude.
In general, my example shifted something in the child's mind, but not so significantly that she herself took up the books. And literally this weekend in the next papin's visit, we once again heard a reply that he had already read serious books at six.
I found these Indian tales and even showed where and how he made notes on the content that he had read. That is why for some reason the child was very impressed. She agreed to have her father read a couple of fairy tales from there.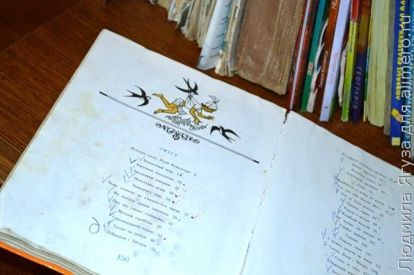 In the evening, when my dad left, she asked me to reread one of them again. It can be seen, having mastered the text well, I sat down to storm it myself. And just last night I read the whole story myself for a couple of approaches. Of course, near the content put her mark.
I was very proud of myself. She demanded that I immediately inform my dad about Skype, even though he is not online now – he will come to read! I reread what I wrote and was pleased. Hopefully now our friendship will begin with the books.
Do you make friends with them?