Even if you have not heard about the characters of the animated series Monster High (Monster High), You must have seen them – creepy, at first glance, dolls with an unusual appearance. Their appearance in our market could not have taken place completely, as well as any new product that differs significantly from its counterparts of a similar purpose.
The most common reaction to the cartoon and dolls – What a horror / abomination! Parents of boys and toddlers who are not interested in dolls yet exclaim that they would never have bought such a thing to their child. And the parents of the girls go to the store and buy them, including these parents and me. And in today's article I will try to tell you that Monster High is not so terrible as they are painted.
Sometimes it seems to me that the opponents of these dolls have never watched the corresponding animated series. But if they had watched at least one episode, they would have learned that behind this stories about ordinary children who study, make friends, get into ordinary life situations (often funny), look for a way out of them, etc.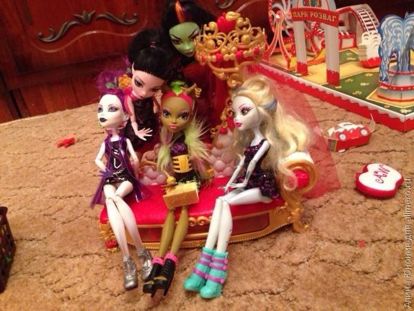 In criticism, adults often use the word death. For some reason it seems to them that this is a cartoon about her and everything connected with it. No matter how long I watched the show, no one died there, and no cult was made of it.
Another argument – Yes, these are dolls-dead! Yes, there are vampires, mummies, zombies. But the emphasis on the fact that this is not the dead – they talk and move.
To be honest, even my favorite Winx fairies do not have such thoughtful and detailed images. Every time I find new details and wonder how many professionals in their work worked on the appearance of the dolls.
Take at least a doll named Spectra – this is a daughter of ghosts. She loves the mysterious gray-purple tones, as can be seen in her clothes, hair and makeup. Her earrings and handbag look like chains, even the heels on model shoes are decorated by them.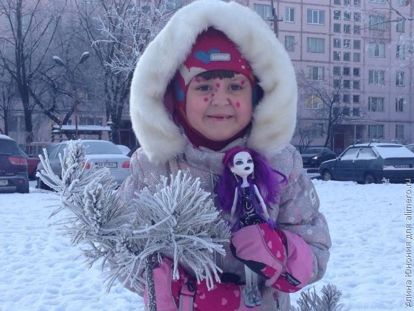 By the way, each doll (there are a lot of them, more than a hundred) is dressed differently, has its own unique make-up, character and accessories – shoes, handbag, etc.
There is also a beautiful doll Cleo de Nile – the daughter of a mummy. She has a completely different skin color (coffee), on the skin you can see parts of the fabric that was used for mummification. She has hair of a corresponding golden color with contrasting strands, and under the eye is a lovely diamond fly. And this is just a brief description, in order to describe in detail each doll barely enough the volume of the article.
I can not forget about my daughter's favorite character – Laguna Blue, daughter of a sea monster. Blue strands in her white hair are the result of contact with bleach in school beyne, and the marine origin is confirmed by the membranes between the fingers, small fins on the limbs and skin with a bluish tinge.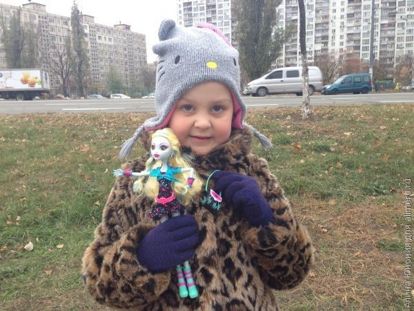 Each character has an impressive biography, their individual character traits, preferences, friends and even pets. All this, of course, exactly corresponds to the character's image.
So, the same Blue Lagoon is the captain of the school swimming team, struggling with all its forces against the pollution of the aquatic environment and seeks to help the aquatic inhabitants. Her pet is Neptune's piranha, which she wears in a special bag in the form of an aquarium.
There are among the characters and Rochelle Goyle – a stone statue from the roof of the French Cathedral of Notre Dame. She is the daughter of a gargoyle (hence the wings of the appropriate form). It is quite natural that Rochelle does not like pigeons and swimming (after all, she is stone). But she loves architecture.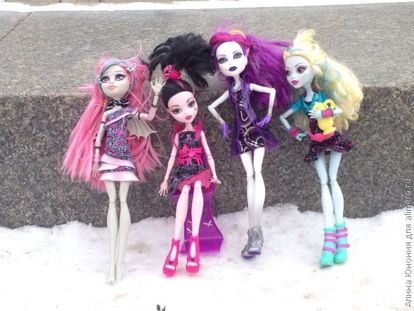 Good or bad?
As you can see, only at first glance the characters of the Monster High series seem eerie and scary. In fact, behind each of them are fascinating stories that are interesting even to me, and even more so to children.
The main motto of the school of monsters – Be unique be yourself. And the characters in each series prove that the appearance is not the most important thing, the main thing is self-realization and uniqueness, and each of us is unique. And the fact that benevolent appearance often hides a benevolent person – another excellent property of the characters of Monster High.
So what, what monsters? Modern children, perhaps such characters are more understandable. For me, these dolls are by no means ugly, they have great clothes and shoes (all this, by the way, of excellent quality), chic makeup and luxurious hair that can withstand any hairstyle.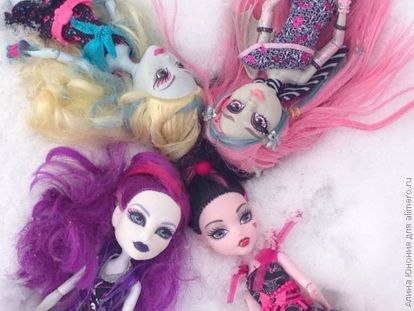 Another argument from the opponents of Monster High – terrible hinged limbs. Imagination immediately draws torn hands and arms and the terrible consequences of such games.
Let me tell you the secrets of the hinges: first, they are made for convenience when changing outfits and jewelry, almost all dresses have narrow sleeves; and secondly, I have never seen my daughter focus on this.
Therefore, sometimes a cigar is just a cigar. And if you so want to see in the dolls the elements of a dismemberment, then consider them the usual anatomical constructor, with the help of which the child studies the structure of the body.
It is not surprising that among the fans of Monster High dolls not only children, but also adults. And I do not see anything wrong with the fact that my daughter and I are among them.
And how do you feel about this show and the dolls? If you have questions, I will be happy to answer them!