As much as I remember my parents, they teach me so much. According to them, I always do everything wrong. And now, when I am a mom myself, I still do not do it the way they want.
Day after day, I only heard the constant need to do so, you do wrong, all this is wrong. And also a bonus program: I did my homework and I had a choice: wash the dishes, clean up or walk the dog. All this is so annoying!
I always wanted to do something in my own way. These experiments of mine ended in scandals with the words: First ask, and then do something!
I then hated that phrase so much! But she was so rooted in my head by my parents that I myself, surprised at myself, began to use her in relation to my daughter. But she, too, is experimenting (as I once did).
But she really shkodnichaet and does stupid things, so I tell her everything correctly. Sometimes it is better to ask first to avoid nonsense, and, accordingly, punishment.
Do not bring me up!
Somewhere in my teens, I began to be ashamed of my parents and avoid them in every way. I walked a distance of 100 meters from them, pretending that I do not know them. I can imagine how unpleasant and even painful it is! All their attempts to tell me something or teach me ended in failure. I am tired of their teachings and interference in my life.
Now I have my own family. But parents make themselves known. As I said, in their opinion, I am doing the wrong thing. I do not raise children at all, and I behave incorrectly with people. Here is my wrong lifestyle.
I did not give the younger child to the garden, as my mother did in her time, she was not officially employed (I work at home), my work is wrong (and I really like it). And there are many such examples.
Teach your grandmother to suck eggs?
Remember how our mothers taught us how to write words, to hold the pen correctly? Now I am teaching my daughter this. Then we will learn to write, read, everything ahead.
What is it for me? I am leading to the fact that our parents taught us a lot. And now we teach them how to use a computer / laptop / tablet / phone, how to communicate on the Internet and make Skype calls. We were taught to sculpt with plasticine, and now we teach our moms to sculpt various decorations from polymer clay.
My mother taught me how to cook borscht and soup, and now she calls and asks what needs to be put in a pizza or how to make a cocktail. No, my mom is modern, but you just need to teach her too. And now I think: If I now teach the different tricks of my children, then what will they soon teach me?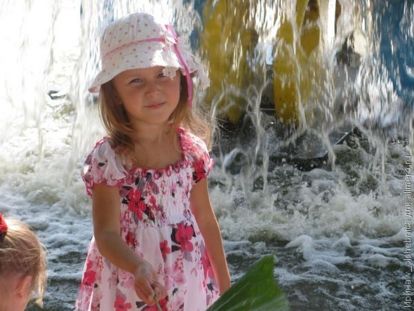 One way or another, but not only we bring up. Often they bring us up too, only rarely does anyone notice it. My daughter, according to her mother-in-law, is building me in her 4 years. Yes, I often try to please her. Right or wrong, I do not know, I do everything intuitively, the way I would like. After all, we must do what we want them to do to us. This is noticeable in our game.
Often my daughter says: Stop whining, tired already! And when we play Daughters-Mothers and I play my daughter, I hear the same phrase in my address. Unpleasant It is the same to her, my daughter. I reviewed these moments and no longer say so.
Another daughter likes to surprise with something extraordinary. And instead of cursing, I wonder: Or maybe you shouldn't? Why did she do that? and something like that.
And what do you think, is it possible to raise parents? Did not notice your kids like that?