A lot of literature has been written about parenting, there is also a wealth of information on the Internet, and the experience of our parents and grandparents has been passed down from generation to generation.
Now I am faced with one feature of the behavior of a daughter, which is inherent in all children, without exception, and even adults. She began an active period. I want, but more often I do not want, I will not. I would like to speak on this subject and reflect on whether children should be forced to do what they do not want.
My personal beliefs and principles
Since childhood, I was convinced that there are some things that need to be done, even if you do not want to. For example, you need to brush your teeth in the mornings and evenings, put your things together, throw out garbage, go to school or kindergarten, do homework, visit the dentist and much more.
I try to put my beliefs in terms of elementary things into my daughter. If I need to go to the store, we go there, even if the daughter asks to go to the site or take a subway ride.
I try to explain to my child that there are such things as Need. Basically, I manage to bring such information to the child, but sometimes not. If my daughter is completely upset, I try to divert her attention or promise that we will go where she wants when I decide my affairs.
I remembered one case when a girl did not want to go to school without a grandmother. Grandma had to go along with the child and wait for all the lessons, meeting at recess. In another, the child did not want to attend an educational institution. I do not know how it was all further, but the situation is comical. It turns out that the child simply skillfully manipulated the family and everyone went about it.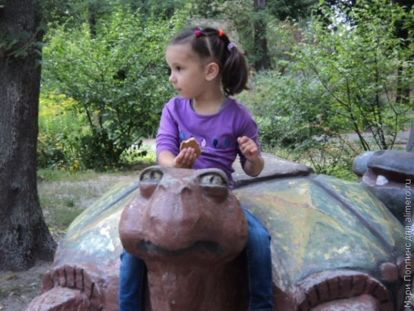 But in my childhood I once refused to be vaccinated at school. They did all the children, but I don't have any 🙂 Then the nurse persuaded me, found the right approach to me. Now I have the same reaction to the injections, but I do it because I have to.
When to force is not necessary
I consider it superfluous to force the child to wear this or that clothes that you like, not the baby. If your child likes a green sweater, and you are red, give preference to the first option. Still, the child must have the right to choose.
The same thing happens with food. I used to try to shove at least a couple of spoons into my daughter. Now, I do not force it, if I wish, to eat when the time comes.
I also don't understand when parents are forced to attend circles for children that they don't like, trying to realize their fantasies and unfulfilled dreams through a kid. As a result, you can get a silent and secretive personality.
How can you gently force the child
The safest option is to do things that the child doesn't like with him while playing. We always brush our teeth together and wash our hands. We have these procedures are normal.
When performing any actions, the child should be interested in them, then he will want to do what he did not want 5 minutes ago.
If the child is hysterical, not wanting to do anything, try not to scream at him. Try to hug him and talk to him. After arrivals from the father, the daughter often cries and cannot calm down for a long time. I embrace her and calm her down in every possible way, telling her not to get upset. It helps best!
If you can postpone some things for a while, set aside. After all, the child also has a bad mood and at the moment he does not want to sculpt or read a book. Ask the child whether he likes this or that activity, or is it worth playing something else.
Try without prejudice to the psyche to raise their children. Then the attitude towards you as a mother will be good and kind. And in the future, the child will only thank you for your efforts.