I decided to write a topic on this topic. A recent situation pushed me to this. And now I wonder: is it worth taking children with me, and where exactly should I take them?
Ah, wedding, wedding
Not so long ago, my husband's colleague had a wedding. Rather, it was just a meeting between their own. The groom invited his colleagues with their wives. Naturally, we also gathered. But how to deal with children, will they behave well at home?
We concluded that the children would stay at home. The eldest daughter agreed to look after her brother, and both of them will be watched by her husband's parents. And we went to the event with peace of mind. Rest is also necessary! All were without children, except for one pair. Their tomboy son was constantly tugging at his mom.
She didn't really have a chance to sit, and at the end of the evening, everything noticeably irritated her. The child was running around the house, all the trashes, bitten sandwiches in the kitchen. My for a long time would have received. But in general, they are very restrained with strangers and in an unfamiliar house (maybe a little scared).
Hike to the restaurant
Somehow my best friend had a birthday. But we were invited to it at the last moment. It was not polite to refuse, so we went with a pre-prepared gift. The son was then about 3-4 months. With my grandmother, I could not leave him. They took with them.
I thought he would fall asleep and sleep sweetly in a stroller. But it was not there! He was capricious and squeaked that is not particularly peculiar to him. I had to leave the table (at which I practically was not) and to be outside the restaurant. Husband, too, really could not sit at the table, and we left. Bitter experience suggests that it is better to keep children in such cases with someone at home.
Sister's Birthday
Knowing that we would go on holiday, we asked my mother to look after the children. Of course, we bought a gift and flowers and went to visit. Everything was very fun, tasty and pleasant. I communicated with distant relatives whom I had not seen for many years. We talked about everything, and in a pleasant atmosphere we spent a lot of time.
With children it would not have happened. And they had nothing to do there. No one from the younger generation was not. Unless my sister and I are both 25 years old. We came home around midnight and went to bed. Thank you mommy that she looked after the kids, fed them and put them to bed.
A visit is always a necessary event, especially if it is an important occasion. But in order not to spoil the holiday for themselves and other guests, it is better to leave the children at home. But, alas, not everyone and not always have such an opportunity. For example, for the first time I went with my daughter always and everywhere. In shop, institute for study, guests.
It was different. She slept quietly, then calmly behaved, then sat all evening on her hands, acting up. Now it's easier with her: she goes to the garden and I have a little more time. But I also have a son! A mother-in-law does not always want to sit with him. Therefore, I take it with me when I go to work.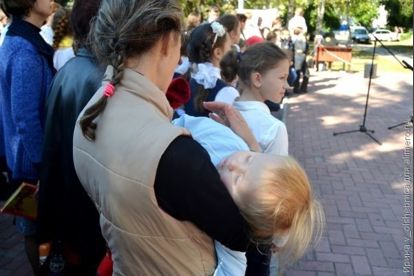 So, we attend exhibitions together (where I take pictures and interviews), presentations and other important events in our city. Someone looks at me with understanding, and someone with bewilderment. And somehow I heard: Why did she take her brother with her? Mom can not sit with him? And my mother, I just absolutely do not look at my age.
Do you think it is appropriate and always to take children with you? And what about those moms who have no grandparents, no nanny?