I want my children to be not only beautiful, but also smart. Their development can be stimulated by different methods, but no one, I think, will argue that the most important element of culture is books and their reading.
A child cannot be forced to read (or rather, there will be no necessary effect from this), it can and should be introduced into the world of books. And with it a good vocabulary odor appears, memory strengthens, and imagination develops.
There are a lot of beautiful movies, but their impact on human development is not as great as that of an art book. As a rule, in the film its authors give us ready-made chewed images.
There is practically no place for fantasy, imagination, as we were told at the institute, a flight of thought. Therefore, the book – it is also a kind of work, but very enjoyable. And the sooner you begin to introduce the baby to the world of the book, the better.
From the first days of life
I started from a very early age. There is a mass of small soft booklets-tweeters, books-tarahtelok. They can knead, nibble, bathe. On the pages of these books are simple but bright juicy images of animals, birds, fruits, vegetables, objects.
For older I bought cardboard books that range from tiny to gigantic. Their advantage is that it is extremely difficult to crush and tear them, the only thing they are not protected from is the cutting teeth.
Therefore, from the very first acquaintance I began to teach the child to handle the book with the utmost accuracy. There are two polar reasoned opinions – whether to allow children to draw in books, but for pictures I slip magazines to my daughters.
And when the elder grew up, I began to take her with me to the bookstore.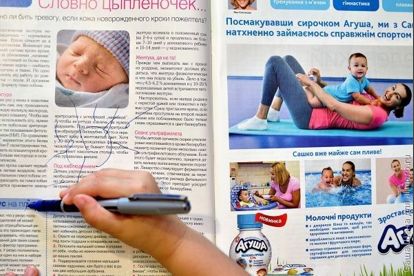 When choosing books, I am always guided by the fact that at first they attract a small child, first of all, in design. Popular poems and fairy tales were drawn up by many illustrators, and now they draw all those who are not lazy.
Therefore, often the purchase of a book of one or another author may take longer until I find the necessary illustrations. In this way I try to shape the taste of my daughters.
That is, if I like the text and pictures, I take it, and if they donate a not very good book, I try to throw it away out of sight of both mine and the nursery.
When choosing books, orientation in publishing houses also helps me. There are those whose books can not even be ordered to order via the Internet. They have a 100% combination of quality, both selected authors and illustrators for print.
And daily reading out loud
I began to read verses aloud from the very first minutes of my life as one and the second baby. Under my voice, they both behave more calmly, and fall asleep more easily, but sometimes it is impossible to invent fairy tales on the move, too tired.
I try to read every day. I very much scold myself if it is not possible to do this for some reason for some reason. Children are grateful listeners, they have their favorite books, which they are willing to listen to many times.
Sometimes I pause, and the daughters continue on their own, they have learned by heart almost the whole of Fly-Tsokotuha and some other favorite poems.
Together we look at illustrations. First, I tell who and what is there and where it is drawn, then I ask to find it myself, and after that I ask to call what it is. So we know the world.
And I also noticed that over time they became more respectful of the fact that I was sitting and reading in a corner, and didn't bother me much. Sometimes they will only ask what book it is, what it is about. Curious. No wonder they say that reading is a habit that is not taught, but which is infected.
Dear mommies, do you read with your children? How do they relate to books?