Our spontaneous trip to Odessa was not entirely successful, since Masha got sick with mononucleosis and only once was at sea. Not always what you plan, it turns out well.
What is infectious mononucleosis
Usually this disease affects children at an early age. For me, it was a shock when an infectious disease diagnosis was made to us. It sounded awesome.
Infectious mononucleosis is a viral disease in which the entire lymphatic system is affected, it can be a sore throat, runny nose, cough, liver increases. Everything can begin with a common cold, and the disease can be infected without the characteristic manifestations and other symptoms of its carrier.
Infectious mononucleosis causes the Epstein-Barr virus, you can become infected when in contact with a patient, the disease is transmitted by airborne droplets. Even if the child is sick and has already recovered, he is still the carrier of the disease for about 1 month.
It is possible to confirm the diagnosis no earlier than on the 20th day of the disease by donating antibodies to the Epstein-Barr virus. Previously, there is no point, because the antibodies have not yet developed in the body.
I can only guess where we could get infected, either in the kindergarten, or in the train, or just on the street. Even before the trip, the nasal mucosa swelled, and she sneezed periodically and had a runny nose. I thought it was a manifestation of allergy to flowering and fluff. However, probably, then we became infected with this virus.
What is the saddest thing, if the child in the kindergarten is sick with mononucleosis, do not quarantine. And very vain. I believe that it is necessary to do it, like with chickenpox.
When we arrived in Odessa, the daughter was already sniffling with greenery and coughing. We turned to a doctor who immediately sent us for a blood test and allegedly supplied mononucleosis.
A couple of days was the temperature, which itself passed. I was already delighted and thought that my daughter was recovering. We went to the sea, which could not be done. It turned out that we warmed up the lymph nodes in the sun (they were then of normal size) and the next day the temperature rose to 39 and the lymph nodes were about the size of a nut.
We immediately went to the clinic, the doctor was 90% sure that it was mononucleosis, although there were no mononuclears in the blood test. It is for this indicator that the diagnosis is made.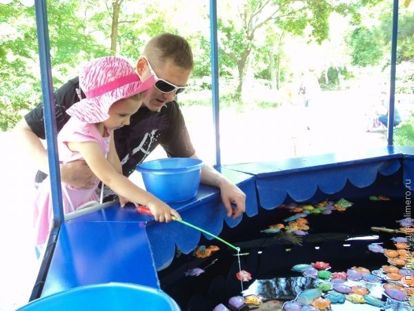 The surgeon assigned us compresses to the lymph node, so that God forbid there was no festering. We also intensively treated a runny nose and drank antibiotics. You can imagine my state when I am with a child in a strange city, shake by doctors, pharmacies and do not know what to do. Whether to change tickets and go to Kiev, or stay and not go with a sick child on the train.
Fortunately, after the 2nd day of taking antibiotics, the temperature no longer rose, and the lymph nodes decreased slightly. Thanks to compresses, the surgeon said that the most dangerous is now over.
By the way, as luck would have it, it was impossible to buy Lymphomyosot anywhere, which is simply necessary in the treatment of this disease. It's good that I have a little left.
The rest of the time we spent at home, so as not to infect other children and not pick up anything else from above. Adults and children of 10 years who lived with us, did not get sick, but we could become carriers of this disease.
When we returned to Kiev, we immediately went to an infectious disease specialist, who convinced me that this is mononucleosis and it doesn't even make sense to take an analysis for antibodies. We underwent a complete blood count, which showed a lower number of white blood cells, compared with the previous analysis. This indicated that the disease was receding.
Also, the doctor prescribed Proteflazid to her daughter, an immunostimulating drug based on herbal ingredients. We need to drink it until August. Our runny nose has not completely passed and the nasal mucosa is still swollen, the liver and lymph nodes are slightly enlarged.
After suffering the disease is to refrain from vaccination for two months. Meals should be gentle and light. Exercise during and after illness is limited.

Like other children

Symptoms of the disease can be completely different. Some children develop sore throat, while others may have complications such as bronchitis or pneumonia. My friend's daughter got sick at the age of 3 years. Her lymph nodes were not enlarged like ours. They identified the disease solely by blood analysis.
If you find some signs of mononucleosis in a child, be sure to donate blood, since you may not even understand that it is mononucleosis. Do not self-medicate, it is better to contact an infectious disease specialist or pediatrician for an accurate diagnosis.