Like any mom, I wanted to give my children the best. Therefore, when I heard that early swimming is very useful for the development of a child, immediately rushed to look for information and immediately began to introduce it.
I learned about Charkovsky, about childbirth in water and baby swimming. I took a cassette from my friends to see how Charkovsky teaches babies to swim. And gradually began to filter everything he saw and heard.
I decided for myself that the most important thing is for the child to like to swim, then we both will enjoy the process, which means benefit. In the end, the extra stress to the child's benefit is unlikely to go.
The main thing – without stress
It became such a stress for my baby when, according to the Charkovsky method, I began to teach him to dive. He didn't like it very much, even when I was just pouring water on his face. It was necessary, as advised, to get into the bath, and breastfeed him there to calm him down. It is believed that it is necessary to calm children while swimming in their water, so that he does not develop the fear of swimming.
But all this was not very convenient, then it was necessary to wipe somehow, and the child was already sleepy. While I was drying, he woke up again, he had to put him to sleep again. An assistant is needed here, but he (dad) did not always stay close while swimming, often was still at work.
In general, I decided to keep these swimming lessons to a minimum. Just instead of the usual sitting, I twisted it with eights all over the bath either on my stomach or on my back, singing songs at the same time. In this embodiment, the child was not learning to learn swimming.
True, contrary to Charkovsky's allegations, he quickly forgot all this when he grew a little. But fear, when water is poured on him, has remained for a long time. There was even a problem to wash my hair. And then I signed up for a children's swimming training group with their mothers, when the child was almost 3 years old.
Learn to swim in the pool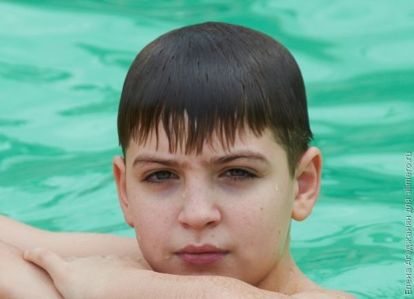 Our Marina Nikolaevna's instructor was a true professional. She didn't rush anyone anywhere. But the hardest thing all the same went with us diving. I could not lower my face into the water. But all this was overcome with the help of sprinkling on the face of water, accompanied by rhymes about the rain. Baba sowed peas with squats into the water also played a positive role in this process.
And after a while all the staff of the kindergarten (the pool was in the kindergarten, where my son went then) was going to look at how the three-year-old Sergei dives. He liked it so much that he was even hoarse from frequent diving. At home I was diving in the bathroom and asked me to tell time.
From this I concluded that everything has its time. And any matter – especially teaching children to swim – should be handled by professionals. I didn't torment my second child already with infants swimming, but just went with him to the pool for about 3 years as well, and he learned to swim very well. Now they love to race and dive, who is longer. They overtake me both.