I remember very well the time when my child was just learning to crawl, walk, and then talk. And now, when I try to help him with something, he tells me I can do it myself.
It is very important to teach the child to independence from childhood. But at the same time, do not try to do it too soon, so as not to discourage any desire at all. It is important to find a middle ground if you need help or, on the contrary, allow yourself to do it yourself.
What can we do in three years?
For the first three years, the child learns a lot: personal hygiene, social skills, tidiness, the ability to eat independently.
It seems that quite recently my son was born. I was only lying in the crib, and I was dying of happiness when he said the first agu, then I was happy with his first tooth, and at 10 months his first steps.
In the year he walked confidently, but at 1.3 he began to eat and hold the cup on his own. Somewhere in a year and a half, the son began to try to take off his socks and wash his hands.
Somewhere in two years, the son began to use the fork and eat quite neatly, independently remove his pants or jacket if it was unbuttoned, and also wash and wipe his hands and learned to blow his nose around that age.
Now we are almost three years old, the little one helps me set the table, rearranges the dirty plate on my own (without a reminder) on the table near the sink, puts on a T-shirt and pants on my own, but we haven't mastered a shirt with small buttons yet. He goes to the pot on his own, removes his pants, and then puts them on.
Acquaintance with the world around it and mastering it
But all this did not arise just like that. He was learning something when he was watching us, but we were learning something. In general, we are a good example to follow. The child looks at us during the morning toilet and learns the rules of hygiene, looks at how we eat, and repeats after us. Our son not only watched, but also ate from our plate. He believed that we are filling ourselves with something more delicious than him.
Adults need to help the child in every way in the pursuit of independence. I believe that the son began to eat early on his own. I will not say that he took a spoon and immediately began to eat carefully and wipe his dirty mouth with a napkin, as he is doing now. At first, I even laid an oilcloth under a chair for feeding, because the food flew in different directions, and also inserted a spoon into my hand. But nothing, by the age of a year and a half, we had succeeded.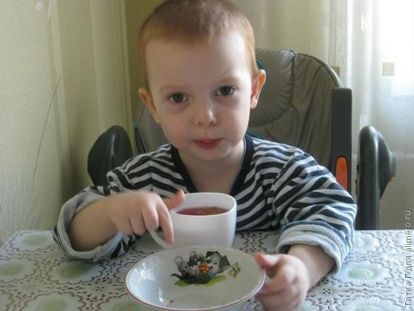 A cousin studied at the institute. Therefore, up to 2 years her daughter quickly chopped food in a blender and fed with a spoon. Now she is three and a little, and she is fed in the kindergarten, and at home she has very few products that have not been ground in a blender.
The child needs to be engaged, he needs to help in the development of the surrounding world. When trying to teach him something, comment on all your actions, what to do and in what sequence. If he has learned something, then praise him, and if he still doesn't work well, tell me what will happen next time.
And if the child already knows how to do all this, but does not want it, it means that there are reasons for it. At an early age, babies do not have such features as laziness, so think about why he is rebelling. Maybe he has a bad mood, and he needs your attention, or maybe he just feels bad or tired. Help him, do not insist, the next time he will do it himself.
I shared with you my main methods, which I was guided by when I tried to teach my son to eat, dress or sit on the pot. But I would like to give a few more recommendations:
1) Even if you have no time, and the child asks for help or advice, do not refuse him.
2) Speak how much you love him. And not only when he fulfilled your request, but just like that. Let him not think that he is loved only for good deeds.
3) Praise the child. Tell him that he is the best assistant in the world, and you would have failed in any way without him.
Be patient, act consistently and you will succeed. The child will learn independence.