Honestly, until my daughter came to me, I thought that small children in public places were noncomforte and moveton combined. Now I have become a little more loyal, but I still try my best to cause less inconvenience to those around me and generally make it so that the finding of a daughter in a cafe goes almost unnoticed.
I already wrote that my daughter has a best friend, Dima, for whom she is going to marry. Apparently, in order to be more confident in this moment, Dima sometimes invites my daughter to a cafe for a cup of tea. Yes, yes, he calls or personally invites her, pays for tea, wonders if she wants cookies and carefully puts a slice of lemon in her daughter's cup.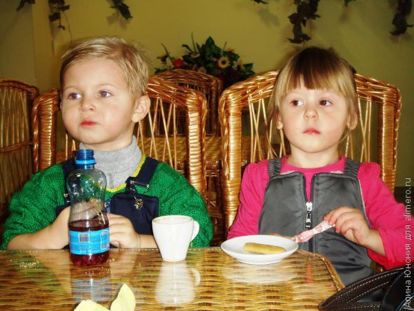 Usually this procedure takes about 20-30 minutes for children (this is if going to the toilet and the battle on straws). During this time, Dima's mom and I have time to drink coffee or mulled wine.
Establishments of our district
After the introduction of the ban on smoking in pubs, in principle, every institution has become suitable for children.
We have a lot of cafes and restaurants in the area – starting from a pastry shop with a lively corner and ending with a two-story establishment with an oven inside. Alas, the cleanliness of the children's play areas in the cafe leaves much to be desired, and I don't inspire confidence in other people's children with whom my daughter contacts there. The good news is that in most of the establishments we visit, the administrator always has a set of designs with felt-tip pens for every taste.
We also have a baby baby cafe. It is not just a game room, but a separate room in which animators entertain children. And parents can watch these processes on the monitors in the main hall. But, to be honest, the prices there are above average, and the range of dishes and drinks is mostly for children.
For us, it has become a pizzeria with characteristic high tables and stools. Alas, there are only two higher chairs for children, so you have to go to this cafe in pairs, otherwise children arrange a fight for the right to own a chair.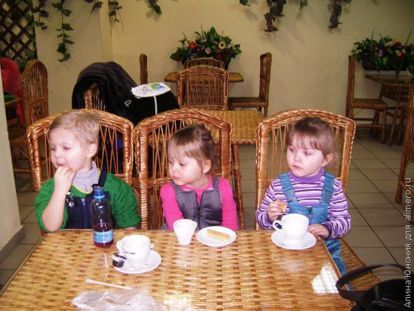 Last time we go to this pizzeria on Fridays with our beloved daughter girlfriend Vika and her mother. In advance, we buy decorating children (the same so that there is no conflict), we take felt-tip pens and scissors with me (mine loves to cut), we charge the tablet with their favorite cartoons about fairies.
The complex of all these preparations gives a striking effect – one and a half – two hours, my mother Vicki chatting, gossiping, eating, drinking, and the children get up from the table just to go to the toilet or warm up.
Visiting public places – cafes, restaurants with a child can and should be. It is necessary to take care of classes for the child in advance. At an earlier age, these could be favorite toys, sorting sachets of sugar or stones from a flowerpot, in the older ones – drawing or playing on the phone, for example.
I believe that it is very important not to cause inconvenience to others. Yes, in the same Italy, for example, where the cult of small children and family values ​​flourishes, everyone will only admire noisy babies and be moved by their violent behavior. We have not done so. Do not forget that visitors to the place came to relax, to eat in a pleasant comfortable atmosphere, and not to shy away from flying vermicelli just because your child wanted to play war games.
And how do you feel about children in cafes and restaurants?