My neighbor has a problem – her baby is three and a half years old, but he doesn't want to talk at all. The vocabulary of the boy has thirty words and his pronunciation is not very intelligible.
Oleg grows up in a very intelligent family. Mom knows three languages, and she works with her son. The family has an older daughter, so the boy has someone to talk to when the parents are busy.
Mom asks Oleg to call objects, say what he wants, and not just point the finger. But the results leave much to be desired, only his mother understands him. In the garden the boy does not go. Perhaps if he had to communicate with other children, he would have said the words more diligently.
By character, Oleg is a very calm and balanced child. He likes to dig sand and play with toys more than he runs with other children. He does not avoid them, but does not participate in noisy romp, looks from the side.
Mom can even leave him alone at home and run to the store. On her return, she finds the child quietly playing and the order in the apartment. This is especially noticeable to me, because my daughter does not even let me out of the room.
In my opinion, Oleg is a perfectly normal and sensible boy, but he has a delay with his speech. Probably, if mom is lucky to have a calm and not problematic child, then he will develop somewhat later than his nimble comrades. Perhaps the baby just needs a little more time than most babies to learn to speak.
An example is the son of my mother's girlfriend. At four he said almost nothing. Everyone thought the boy had developmental delay. But then he began to make up for the lost time in large leaps and spoke with sentences. Last year he graduated from school with a gold medal.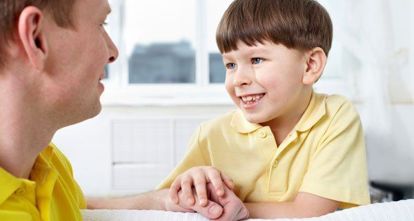 Once in a conversation, Oleg's mother raised this topic. She said that she was worried that her son was indistinct and unintelligible. Here is her eldest daughter at this age already chatted briskly. But we decided that it was written to girls of a generation to speak more and better than boys.
After all, adult women give out more words per minute than men.
One could advise her to turn to a psychologist, but I am afraid that this would have caused a storm of anger on her part. What kind of mom is nice to hear: What kind of backward is he? You would have shown it to a specialist. She should come to this conclusion herself.
Classes with a psychologist and a speech therapist would significantly improve the boy's speech. But for a mother, to take the child to a psychologist is to admit to herself and others that something is wrong with her son. This thought stops her.