TV is now present in each apartment and the baby's familiarity with video equipment occurs much earlier than 10 years ago.
In my memories, this brainchild of progress is virtually absent. I only occasionally watched cartoons of domestic production, later Tom and Jerry and Disney video products were added to them.
However, all this was in the minimum amount – the same Disney series about Chip and Dale and Black Raincoat were broadcast once or twice a week, and then, on weekends.
Even when I didn't have a child, I was very surprised by the phrase of a girlfriend: Oh, the advertising started, you need to quickly feed your son! And only by becoming a mother, I realized that it's not possible to feed a child who watches an advertisement or a favorite cartoon, even an open wound with green paint.
When creating advertising, various technologies are used that attract attention, bright colors, certain sound effects are used. That is why these videos like kids so much.
Yes, I know that distracting and feeding at the same time is not worth it, but sometimes it was the only way to feed my daughter without pain. I am not a supporter of forced eating, but it often happened that my daughter organized a categorical protest at the sight of any of my dances, toys, books and other methods of distraction, and only the television saved us.
At an older age, the daughter became more consciously and selectively concerned with video products. Her first favorite cartoon was a series about Luntik. I admit honestly, a half-hour morning viewing of this cartoon series was just a salvation for me, before my daughter refused to be outside my attention, and Luntik gave me the opportunity to properly wash and drink my morning tea.
Then there was the passion for Masha and the Bear and Soviet-made cartoons. Now my daughter is 4.5 years old and among her preferences: Chip and Dale, Jake and the pirates of Netlandia, Cinderella, Snow White, the Winx fairies, Dasha the Pathfinder.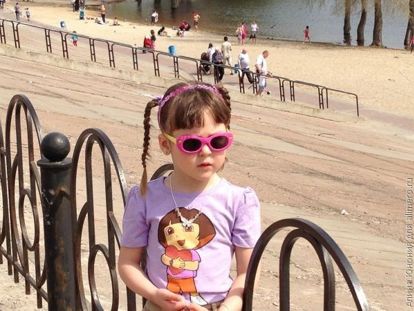 And then my husband installed a special TV set-top box at home, which stores the transmissions of all channels in the past 24 hours. This makes it possible to repeatedly watch your favorite shows, rewind advertising and not be upset if you are late for your favorite show.
My daughter made a profit from this device and for herself – now she knows that if I miss my morning cartoon, then I can always twist it.
I would not say that TV is the most favorite toy of a daughter. Perhaps this is one of the favorite toys. However, almost all of her entertainment is somehow related to what she saw on the screen – we have a lot of Winx dolls, clothes and accessories depicting favorite princesses, etc.
Watching cartoons has to be dosed, because if you do not control this process, the child can almost stare at the screen or monitor around the clock.
We have this part of the evening ritual – often the daughter watches her favorite cartoons at the time when I cook dinner. Of course, you can replace this process with creativity, but children rarely agree to create on their own, but to draw with one hand and fry the cutlets with the other.
There is no doubt that there is nothing good in prolonged contact with the TV. This is the load on the spine, and eye strain, and the effect on the nervous system (many modern cartoons act excitably on children).
The best option – a joint occupation with the child. This may be creativity, reading, role-playing or board game, walk, familiarizing with domestic work. If you have urgent matters, the husband can distract the child from the screen. If he is at home, I ask him to read a book to her daughter or to put together a designer, for example.
In war, all means are good, so depriving children of watching cartoons is one type of punishment for their daughter. She knows this very well and accepts it as a fact.
Minimal contact with the TV will not harm the child. In this way, he meets different characters, observes their behavior, remembers movements and cues.
As with everything else, a sense of proportion is important. Therefore, I advise you to always prefer joint activities and walks to contact with a soulless box;)
And what is the relationship with your children's TV?