All parents want their child to be the most developed and educated. But it often happens that he prefers fun and games. It is in this sentence that the answer to the problem is to turn the lessons into an enjoyable process for the child.
I can imagine how difficult it is for children to learn letters, because for them it's about the same as for us hieroglyphs are some kind of incomprehensible set of lines.
When we started to get acquainted with the alphabet, I constantly practiced the method of associations — I tried to come up with an explanation for each letter that my daughter understood and helped me with pleasure. For example, Ш – rake, Ж – beetle, Н – shelf, etc. For some reason, the daughter named the letter M two sticks, and between them a bra.
It is not a secret for anybody that information in a poetic form is remembered much easier (than they successfully use in the production of commercials). For a long time, we had a hit counting One – an important lord, two eyes are with a lion, three wishes are made, four letters in the word land and so on. This fun video is easy to find on any video portal.
We also have several books in which information about letters and numbers is presented in a poetic form. And the illustrations to them perfectly develop visual memory.
Just writing letters on a blank sheet of paper is a completely uninteresting task. But in bright workbooks with her favorite characters, her daughter is happy to write. Fortunately, their choice is huge. Our beloved ones are with Dasha-ranger, in which besides the cursives there are tasks in the English language and colorful stickers.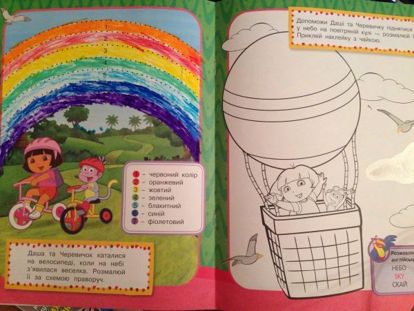 Also to diversify the lessons will help stencils with letters that are sold in any office supply store. 4 sheets of stencils (letters, numbers and figures) cost me only 80 rubles. (20 UAH).
For about two weeks now, the daughter has been writing letters to Santa Claus almost every day (because desires often change, and letters should look neat and free from errors). Then she signs the envelope and gives it to the pope so that he sends the message by polar mail.
What not to do
In no case do not force the child to engage, so you can completely discourage him from the knowledge and learning process in general. Also classes should not be a punishment, the effect will be similar.
Keep track of your words. If the daughter fails, I will never tell her that she is stupid or something like that. Like us, a child may not be in a mood, tired, upset, etc. and nothing terrible will happen if the occupation is postponed the next day.
On the contrary, I always praise the little girl for her success, fixing on her camera her achievements, which we then show to dad and grandmother. Praise is the best incentive for further learning.
We live in a great time of opportunity – our services include the Internet, a mass of developing printed publications, supplies for creativity, new technologies, etc. And we just have to use it all for our children.
My daughter is ready to write as much as she wants, if she has glitter pens at her disposal. A similar effect on felt-tip pens with princesses, and albums with cats. A great option is to go to the stationery shop with your child and together choose the accessories with which the baby will work.
Do not forget to put yourself in the place of a child who was born just a few years ago, and the amount of information around him is enormous. Use every minute for conversations and explanations. After all, letters with numbers can be taught and billboards, and draw with chalk, and spread of chestnuts.
And how do your children relate to classes?